If you happen to follow me on Instagram, you will have guessed by now I have a slight t-shirt fetish.
Mostly I wear my 80's metal t-shirts but I do also have a myriad of other tees which are pulled out of the closet on a regular basis. I am fairly pernickity about the fabric my t-shirts are made of but, sadly, when you shop online it's a bit of a gamble as to whether you are going to get a lovely lightweight one or a horrible Fruit of Loom-esque heavy one. Those are the worst. 
I have a lot of t-shirts which I wear often, probably too often, from labels such as Born A Bad Seed, Heather Gabel and No Fun Press. Put it this way, these t-shirts are worn so often it's a god-send I don't do personal style posts every day because that would be some seriously dull shit right there.
No Fun Press is a small Canadian label who specialise in their own special brand of negativity.
"No Fun's focus has always been on producing top-quality items for disgruntled people with discerning taste. We aim to create gear that noticeably increases the level of "bad vibes" in and around your general vicinity. We're sure you'll feel the difference!"
Those are my kind of people.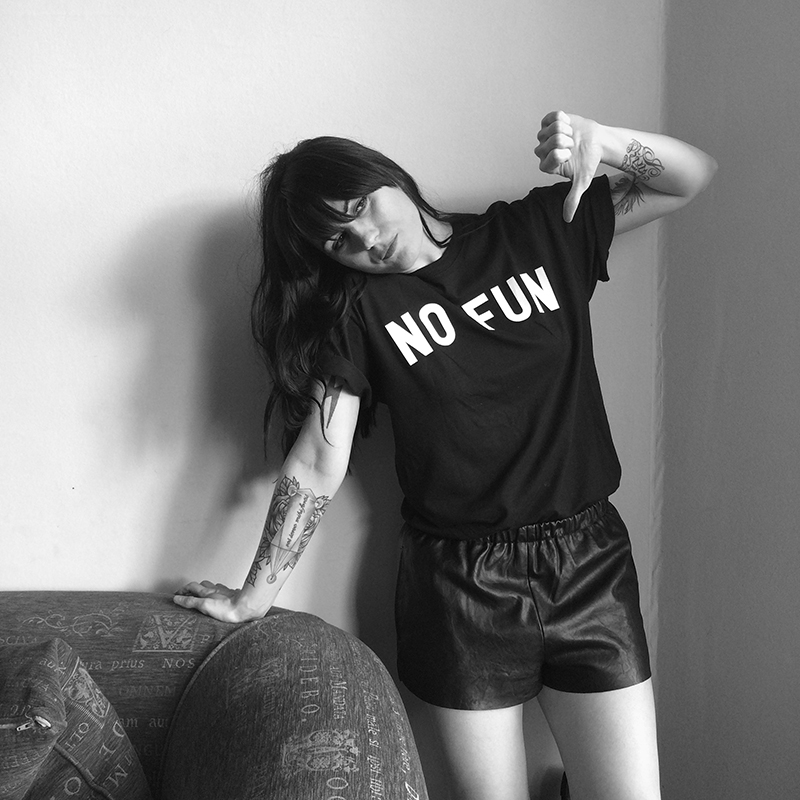 It is also the title of a rather awesome song by Iggy Pop, which was obnoxiously covered by the Sex Pistols.
Equally charming is their Anti-You. For those days when you just hate everyone. 
The tees are only $20 which is an absolute steal, especially since they are made from the good t-shirt material and not the snidey stuff and a total bargain for the dose of negativity you'll be spreading.
QMichelle