If you are looking for a pair of flattering jeans then move along, there's nothing to see here...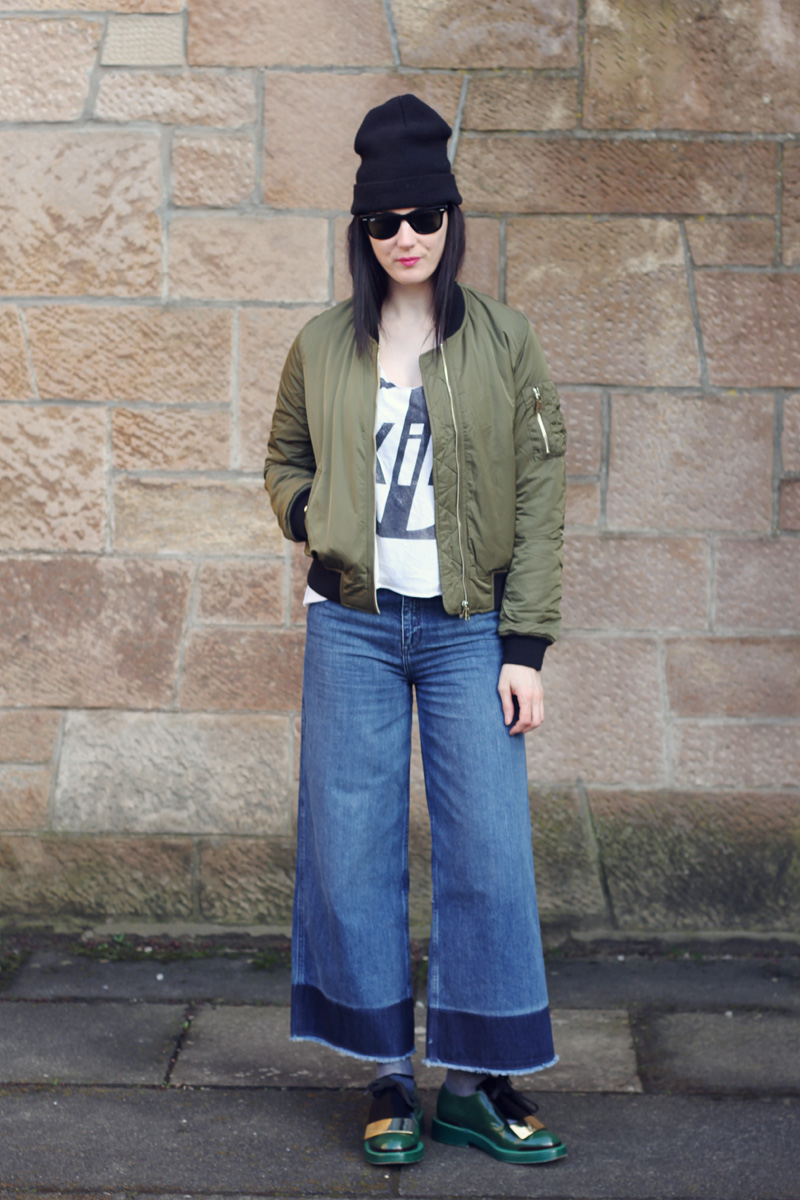 On the days I'm out freelancing, i.e. the days I bothered to get dressed at all, my uniform has mostly consisted of these jeans and this jacket, also known as the least figure enhancing outfit of all time. It certainly garners plenty of stares, possibly from pity that I could wear such hideous jeans.
Needless to say I was pretty surprised when I saw these very jeans pop up in many street style shots from New York and London fashion weeks. It's nice to know I'm not alone in my appreciation of a good pair of awkward jeans. They would probably look slightly more flattering if you lengthened your legs a little by wearing heels, but so far I've only worn them with either my Marni shoes or my Nike Airforce 1's. Flat all the way.
Here I'm wearing them with my favourite flying jacket, which I think lends the jeans a little more of an edge. These can veer too far into twee 70's territory if you're not too careful.
H&M Jeans
Topshop Jacket
Obesity & Speed T-shirt
Issey Miyake Bag
Rayban Sunglasses
Marni Shoes
ASOS Hat
A green flying jacket was a really important part of my youth. I spent some time as a punk and all my friends were punks and skinheads (soul loving skinheads I might add). My own look was an amalgamation of those influences. I remember my favourite outfit was a green flying jacket, a skintight furry zebra print skirt that zipped up the front, my 1o-hole Docs with tartan laces and fishnet tights. I didn't have a fringe back then and my hair was blue/black so I used to tie it into a tight, high dominatrix-style ponytail. I loved that outfit so much. I was 18 years old and as tall as I am now, but mega thin, like 110lbs thin. I was all foal-like limbs, but I thought I looked fab. Actually, if I was still 110lbs I'd wear that outfit even now! Alas, a teenager's metabolism is a thing of beauty, a 40 years old's most definitely is not.
So, I shall be content in my seriously awkward jeans.
QMichelle