I finally took the plunge and bought myself a Yumiko leotard. All the pros and trainee ballerinas wear them, so I figured they must have something special about them.
If I'm honest, the main reason for me finally buying one was the fact you can choose your own colours and leotard model.
I decided to get the Becky. I don't really suit wide straps but they help support my boobs better, so I went for that for my first order. I chose to get it made in nylon with the main body colour in 'Plum', 'Antique Rose' on the straps and 'Antique' trim. The first class I wore it to my ballet teacher immediately recognised it as a Yumiko - that's how famous these leotards are.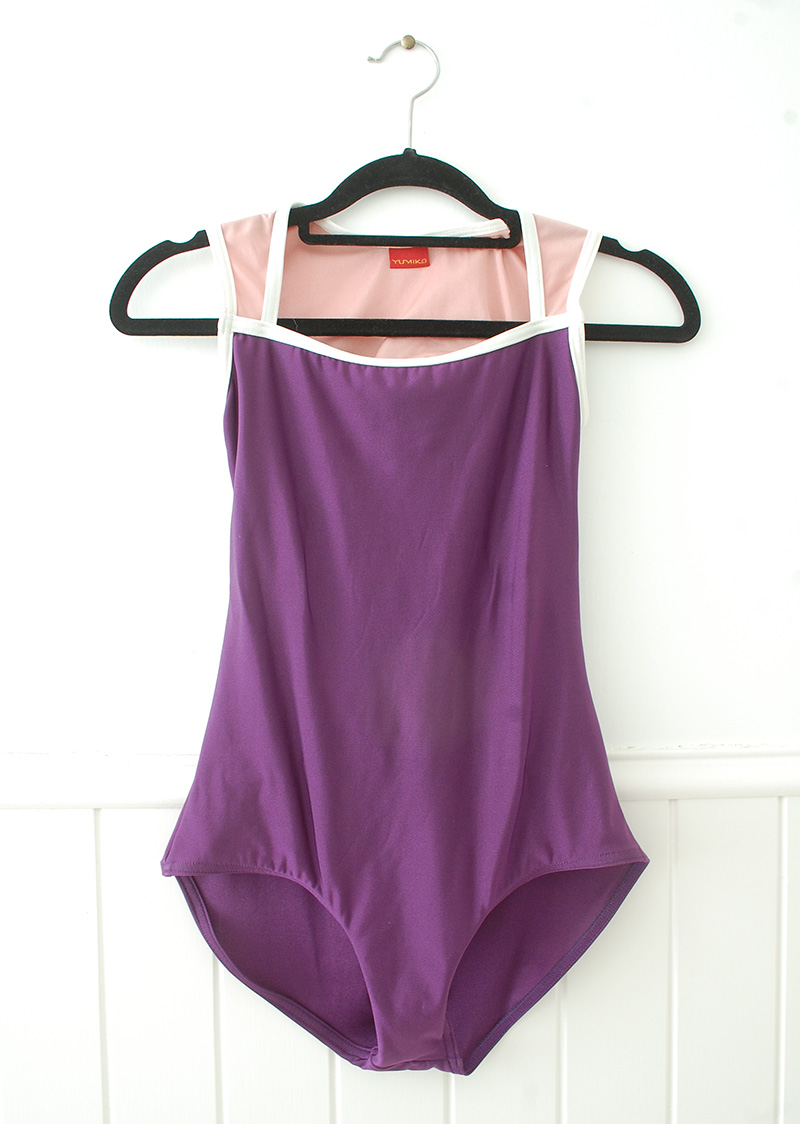 So, was it £40 well spent?
Fit & Comfort
In class it is actually very comfortable to wear. It doesn't cut into my butt very much at all and definitely less than other leotards. The top half, because I'm not without fat and I have quite wide latimus dorsi muscles, did feel a bit tight under my arms and across the back. 
I have along hip area so I often find leotards too short in the body for me, which makes them sit too low at the bust but this one is a perfect length. It is also pleasingly high at the top, so cleavage is hidden away neatly. However, overall I would say it runs slightly on the small side. I bought a medium, which I always fit perfectly in other brands, but this was a little neat on me. That said, I think the large would be too loose.
I opted for a bust panel which didn't provide amazing bust support, well certainly no better than any other leotard, but in all honestly that's just a failing of balletwear in general. Dancers don't tend to have boobs. I do jiggle when I'm dancing but because the top is high it's not that noticeable at all. The medium, because it is on the small side, does compress my boobs almost flat, which is a good thing as it gives a cleaner silhouette and does help stop jiggle a little more.
Look
I really adore the shape and design of the Becky. The reverse isn't completely open, so hides my back acne, which is always a bonus for me, but the little peephole detail is enough to keep it interesting. I like that I can have 3 colours with this design because, as you know, I don't shy away from colour.
It does show up sweat very badly, even on a dark colour like plum, but I think that's unavoidable in the sort of fabrics leotards tend to be made of.
Conclusion
Is it functionally better than 'off-the-shelve' leotards? No, not at all. But the fact you can chose your model and your own colours does make it worth the extra bucks. I think that's why most dancers are buying them to be honest. 
The cost is pretty much double non-custom order leotards, which is expensive, but the main downside is how long it takes to receive your order. It took mine over 8 weeks to arrive, which is excessive. So I would suggest ordering a few at the one time, if you can.
Even with the downsides, I have placed another order, this time for the Denise model which has thin straps.
I'll try and gather up my confidence and take some photos of me in the leotard, but I cannot promise anything! But it will help to see the fit on a non-ballerina body.
QMichelle