It takes those with a light touch and an even lighter heart to make graphic elements fun! 
Step forward those clever rascals over at Baum und Pferdgarten
For SS2015, never have checks , grids and houndstooth looked so flirty, carefree and fun
Small wonder that I am growing to love Copenhagen Fashion week more  and more...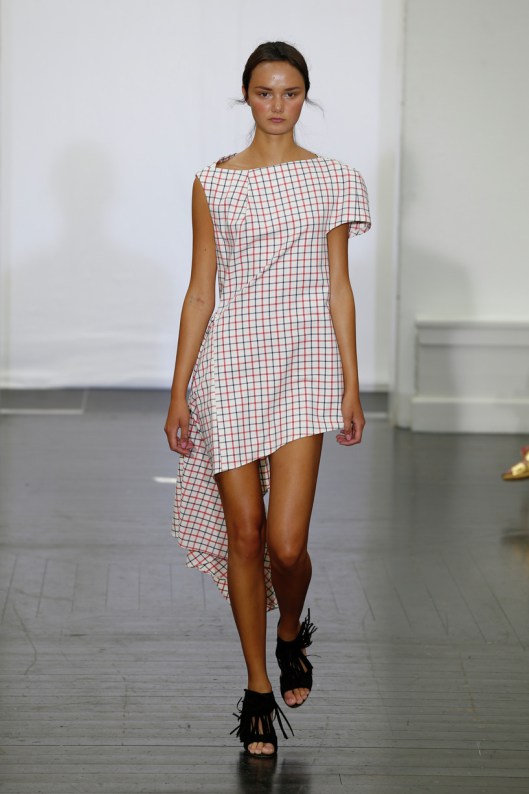 Founded in 1999, the creative manifesto of Baum und Pferdgarten is to differ from the masses both in design and in process.
This clever designer duo is known for not compromising on quality or esthetics – the high quality is reflected in both the fabrics as well as in the attention to detail and craftsmanship in the manufacturing. The collections from Baum und Pferdgarten give women an opportunity to express themselves individually by offering a combination of a classic styles and avant-garde pieces which can be mixed accordingly to the individual taste or occasion.
Rikke Baumgarten and Helle Hestehave like to approach their designs with a touch of irony and humor – and hence their signature is somewhere in between harmony and quirky playfulness. 
Some of the elements from this wonderful SS15 collection are making me think of Japan and Japanese porcelain. I think  the shapes make me think of obis, kimonos and origami while the crisp clean blue and white says porcelain. Yes I know that is a pretty damm subjective impression of a collection but hey ho that's what makes fashion fun...
Queen Marie
x