I mentioned new bag label Rhodesian of Edinburgh in my post on Monday, when I featured one of their stunning designs in my outfit. These are actually called 'Fatchels', due to the fact they are much fatter than traditional satchels - fat stachels. The bags are entirely handmade by leather artisans in Edinburgh and the mother and daughter team who run the label, ensure the highest standards of finish and quality. The choice of sizes is impressive, ensuring a perfect bag for everyone. 
The Jasmine and The Luca
The Cassie and The Clio
The Willow and The Calvin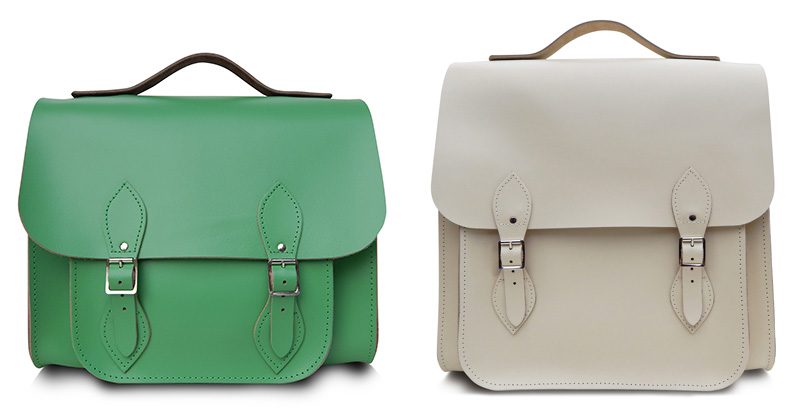 I chose a Jasmine  in pastel pink. It's just the most beautiful little creation and I was chuffed to discover it fits my digital camera perfectly.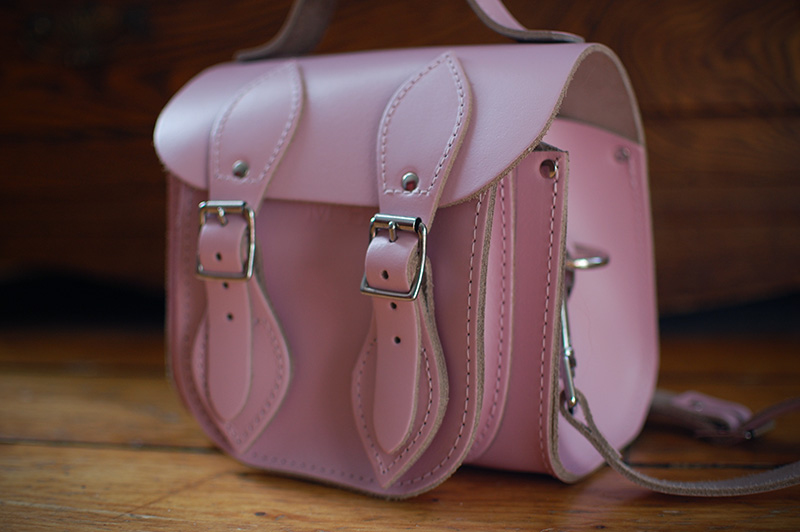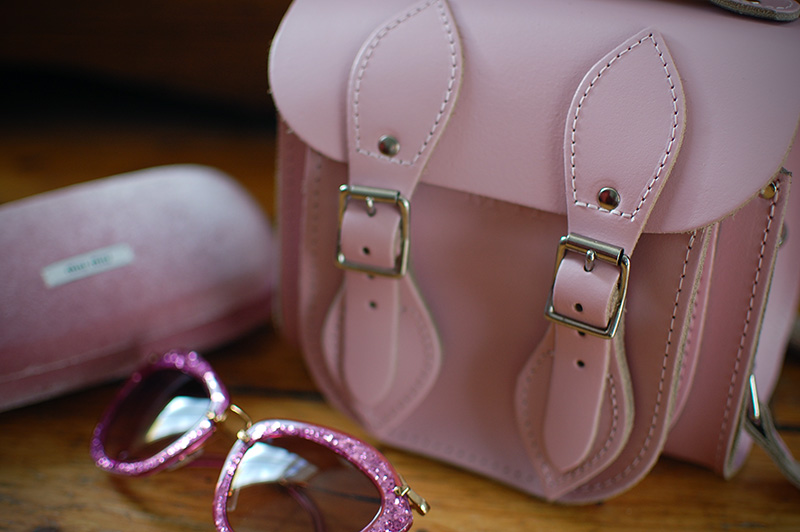 The satchels themselves come in a large variety of shapes and sizes and you can customise your bags in many ways, from adding a carry handle or detachable shoulder strap, to chosing the kind of fastening you want, to having it monogrammed. But even better than all that, you can choose 2 colours for your bag. This is the Two Tone collection and you can select any two colours from their large selection of brights and pastels. 
This is my two-tone Cassi. I choose Tan (it was originally called Dijon) and pastel Aqua. I had great fun picking my colours although it was very hard to settle on just two colours!
This is a great everyday bag. It fits loads inside it.
I also caught up Rhodesian to get more of an insight into their label.
You only began last year, so what made you decide to set up Rhodesian of Edinburgh?
Well Charlotte had been ill for a couple of years and it had became increasingly apparent that holding down your standard 9-5 job would be almost impossible, she wouldn't be able to offer an employer any reliability as the pain she is in varies from one day to the next. 
Charlotte's a natural born worrier she needs to plan everything so not knowing how or when she would be able to work again wasn't something that could be left unanswered. From there we started talking  about potential business ideas, trying to locate something that there would be a market for and something Charlotte would be able to do round about her illness and also so I could support her with on the days she can't manage because of the pain. The business had to support some type of industry in the UK, it had to be able to give to charity and it had to support independent shop owners rather than big chain retailers. The name for the company was incredibly easy as Charlotte had decided from the beginning that it would be called Rhodesian Of Edinburgh after her very treasured puppy Willow. Who spent hours by her side while she was searching options on the laptop, looking for gaps in the market that would mean creating something new rather than selling something already available.
I love satchels with a passion! Why did you guys choose to create satchels specifically?
Well that's interesting you say satchels because ironically that's not what we set out to create. It was a totally different product we were looking to produce in a different material and leather was going to be what we used as a secondary material on the product. But after the first prototype was made it changed the way we viewed the product and so we decided to make it in leather instead.
We loved the prototype so much; we looked at various sizes and options and looked at what the satchel range across the UK offered as it turned out to have similarities to a satchel. Looking at both the positives and the negatives it soon became apparent that the UK had fallen back in love with satchels, so looking at what would compliment a satchel or provide a variation to it is how we took it from there.
In the end when we were finished making all the sizes and were able to take a step back and look at them it was kind of amazing because it was only ever meant to be one product in one size and it turns out we had ended up with a collection! We had them all lined up on the dining room table and I asked Charlotte what she thought now that we had them all together and she said "it's definitely a collection now and it will need a name." So she went silent for a couple minutes while she was looking at them and then she said to me "Fatchels. We should call it the Fatchel Collection." As that's exactly what they looked like, fat satchels.   
The brand is based in Edinburgh and your leather is British. Was it very important to you to make your product as British as possible?
When we initially were thinking about what type of business we could start we had already decided that no matter what the product turned out to be it had to be made here in the UK and support some type of UK industry. When we decided it was going to be a leather product we started looking for leather artisans and contacting the tanneries to see who would be able to make this product for us. Even with the little things like your paper and envelopes for product information, we wanted to try and get it all here in the UK and support other UK businesses if we could. We wanted to create a really high quality product that would give a bit of luxury but without the price tag that generally comes with that.
Do you have plans to venture out into other leather accessories?
We think we have created something really unique and different so we want to try and run with that for a while but for people who have already purchased the bag ie work colleagues and friends they have all really gotten behind the product in a big way and everyone is bouncing around ideas of what could be done next. We do have a few ideas of where we want to go from here but we are not looking to launch anything else at the moment. We really want to establish a brand that people can fall in love with can actually afford to own the collection and they become very much a part of the Rhodesian family.
Who would you like to see carry a Rhodesian of Edinburgh bag?
It's probably a pie in the sky answer but the obvious name that jumps to mind for both Charlotte and I is the Duchess of Cambridge. We love what she represents and we love her style, its fun and easy going and very much what we are about. 
Thanks to the lovely ladies at Rhodesian for their insights.
QMichelle