As part of the prestigious New Year's Day Concert of the Vienna Philharmonic Orchestra, Vivienne Westwood has been chosen to design and curate the costumes for the intermission ballet. 
The Inspiration for the costumes came from the setting for the ballet itself - the historical Palais Liechtenstein. The Palais Liechtenstein, is owned by the family of Liechtenstein and is situated at the heart of Vienna, close to the Burgtheater and the Volksgarten and was recently renovated back to its former Baroque glory, boasting original stucco ceilings and opulent Rococo interiors and original furnishings.
This year, as well as last, the interlude ballet has been choreographed by former Scottish Ballet Artistic Director, Ashley Page. 
The first dancer appears in a Vivienne Westwood re-designed asymmetrical 'Bird Of Paradise' gown in deep burgundy with bow and tulle underlay, with the second dancer is in a buttercup yellow 'Classic Bird of Paradise' Dress taken from the Spring-Summer 2005 collection entitled 'Ultra Femininity'. The third dancer appears in a 'Bronze SOL' Dress designed here with a fine check and stripe light teal taffeta bodice and skirt with a pale grey and white tulle underlay inspired by the Autumn- Winter 2005/06 'Propaganda' collection and worn here with soft cream satin slippers. The forth dancer floats in a long 'Paperbag Frill' dress with layers and layers of fine cream lace that move with the hips and is paired with elegant long lace gloves and soft peach satin slippers. Finally the fifth female dancer is dressed in the 'Dame Corset', inspired by the Autumn- Winter 2006/07 collection entitled 'Innocent' and multiple layered ballroom skirt in gold and pale bronze lace and tulle.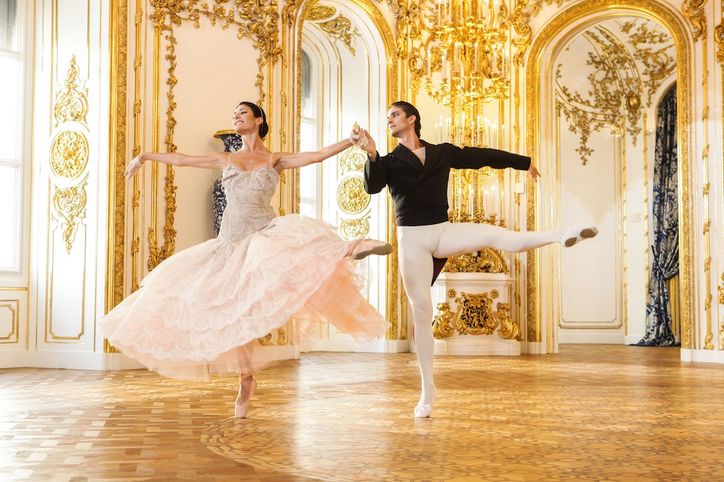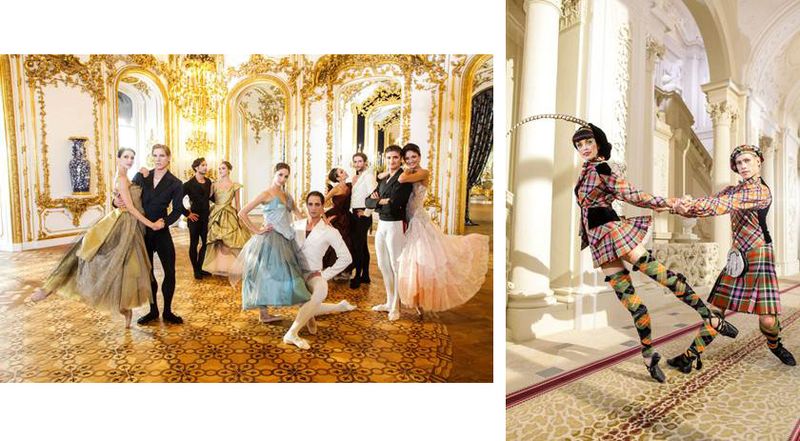 I wish I'd been able to be supplied with higher res images because these don't do the costumes justice. 

This is also the last blogging day until the New Year, so I'd like to take the opportunity to wish all our readers a wonderful holiday and happy New Year. See you in 2014!
QMichelle