With a title like 'Helter Skelter" I was hoping for another thrilling ride with Meadham Kirkhoff yesterday. 
But in place of carnival fun and frivolity, we went down to the harbour via Downton Abbey  for lashings of darkness, gloom and monochrome melancholy complete with an Edwardian blast of  black latex.
Talk about disappointment.
I totally understand that the sugar rush couldn't last forever. That the day would come when Edward and Benjamin would have to avert their eyes from the double rainbow and hop down from their unicorns. They probably felt that they had kicked the arse out of sparkles and bows for the time being.
But for me, this was all a depressing step too far away, too soon.
I look forward to their show more than any other. They make me happy in that totally enchanted, magical, fashion as complete escapism type way.
Of course it goes without saying that everyone else is praising their restraint, the subdued palette and wearability of the pieces, heralding this as their best and most accomplished collection yet...
But happily, this was a collection of two halves.
As the hemlines of the gowns started to fall to the floor, my spirits satarted to rise.
 Glittering crowns, tiaras, embroidered veils atop glorious black velvet, white lace, white cotton and tea dresses the colour of tea stained silk, soon brought the smile back to my face...
Talking about the collection, they explained they had worked hard to strip away, clean up and focus on their 'intrinsic taste and what really matters'
Although judging by the look on this models face, she clearly wishes they had perhaps stripped away her headgear...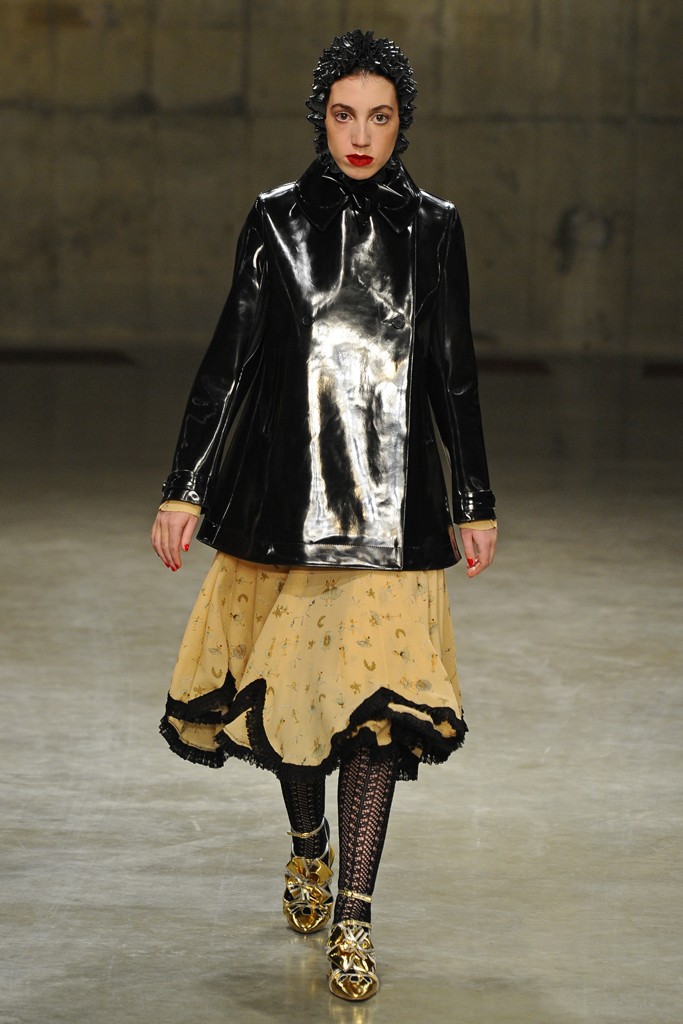 Queen Marie
x