I had the chance to revisit something I haven't worn in what feels like a million years - a denim jacket. 
The last time I wore a denim jacket I was 13 and it had a huge Motorhead patch on the back, small Iron Maiden and W.A.S.P. patches all over the front and it was hand tie-bleached. I thought I looked pretty rad in that jacket. It was my summer jacket for days when my biker jacket was too warm.
But I can honestly say I never really expected to revisit it any time soon. Yet here I am, more than 2o years down the line, back in a little denim jacket. Blame Swedish label 5Preview.
They ask me if I'd like to style something from the shop and when I saw the denim jacket, I knew I had to try it again. 
Some of you will be familiar with the label, possibly for their t-shirts which cheekily send up famous logos like the Chanel interlocking 'C's and Yves St Laurent's 'YSL', or their 'Michele' character, which looks likes a man in a Mickey Mouse balaclava. 
The jacket is perfect for wearing with slouching about outfits, like this one, and I've worn it quite a lot since I got it. The back is where the best stuff happens with the jacket though, as it says 'Whatever' in huge letters. This definitely made it must for me. It's like being a moody teen all over again. I will most likely add some studs and maybe even some patches.
You can take the girl out of 1986...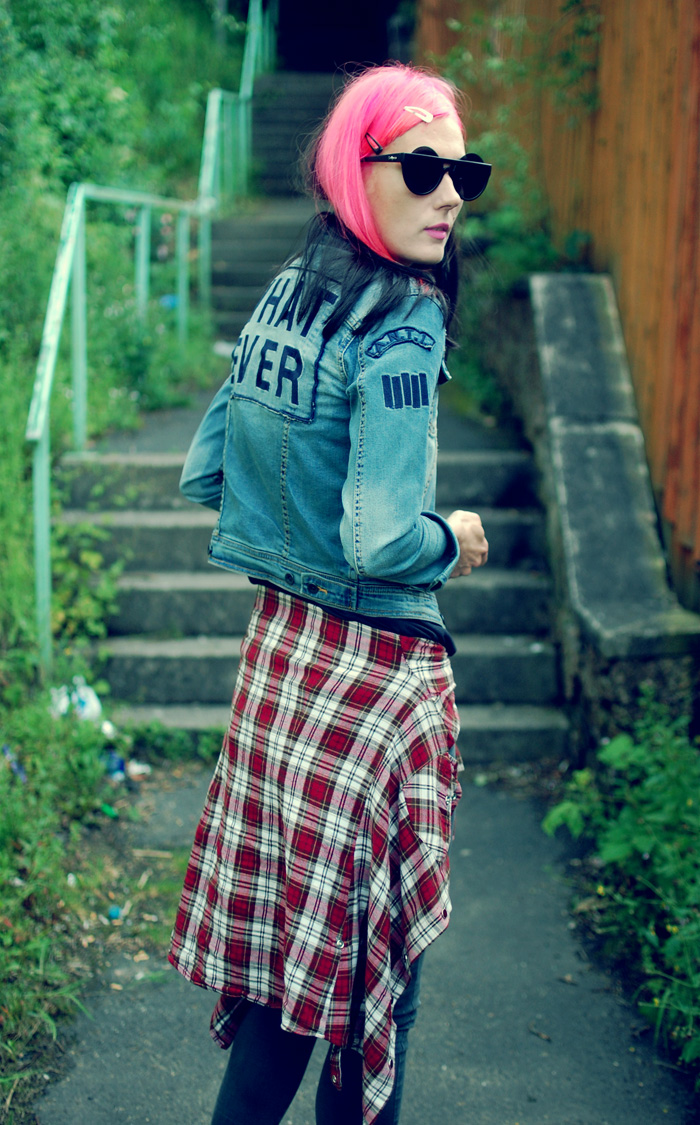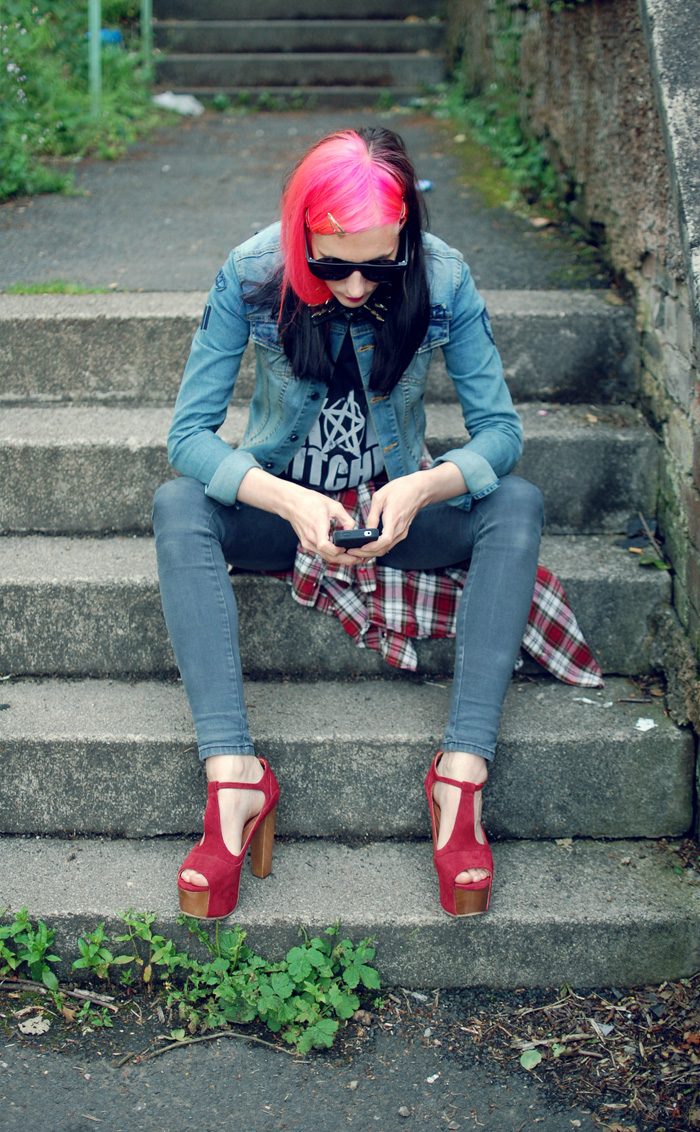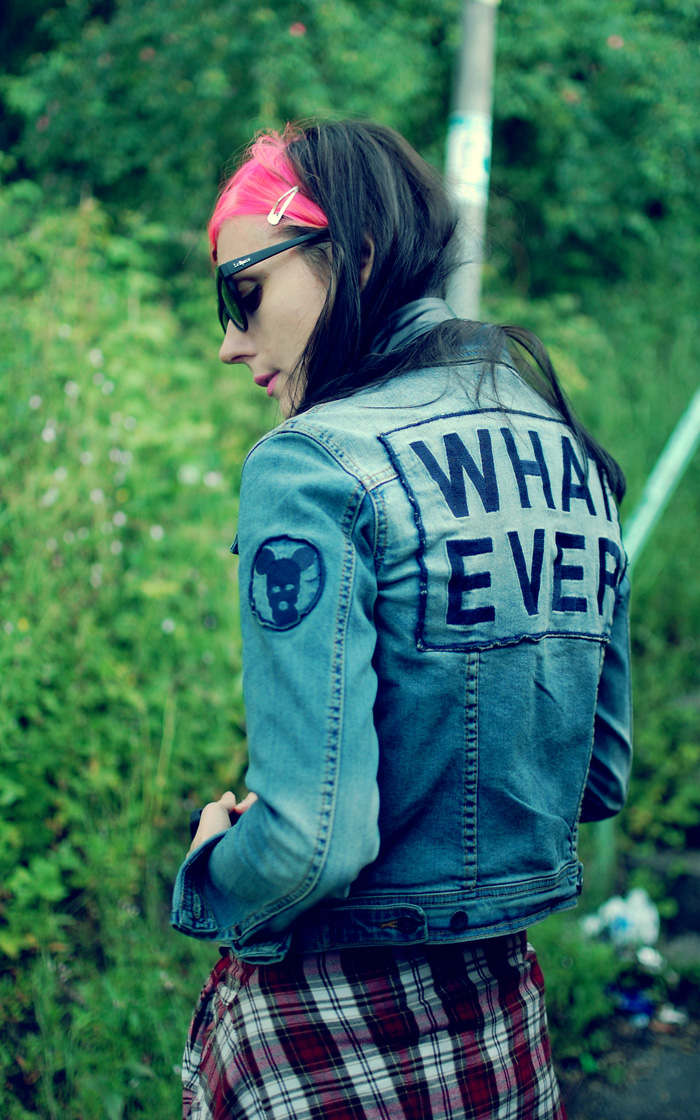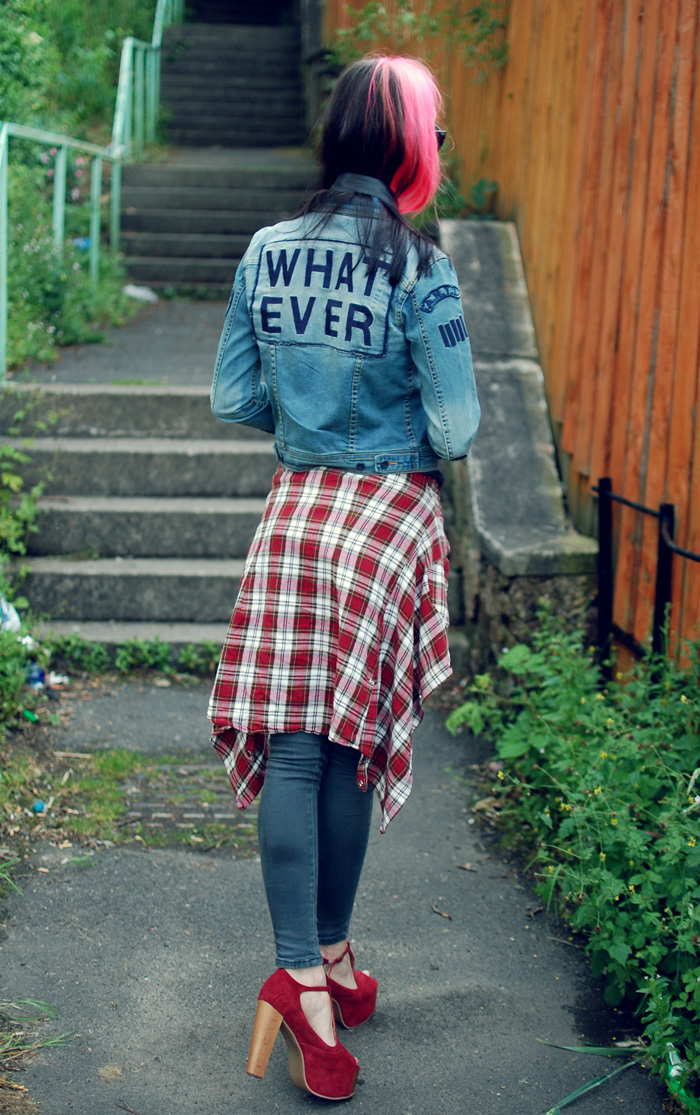 5preview denim jacket / Jeffrey Campbell shoes / JNXKOS Skate Witches tee / Henry Holland sunglasses / DIY studded collar / random old plaid shirt
This is also the last I'll be doing my hair a bright colour. As of the end of July I'll be going back to brunette. I've had great fun playing with colour but blimey it's such high maintenance. I naively didn't realise just how much hard work it would be.
I always wanted blue hair and I've had it, as well as every other colour I could think of, so I'm happy to go back to brown.
Queen Michelle