As you might have guessed, I'm really proud of the t-shirts I've created with Jaggy Nettle. To everyone it might not look like anything other than a couple of basic tees, but so much more has gone into them that you might first think.
So I asked Jaggy Nettle to write an article about exactly what has gone into the making of these t-shirts....
"Kingdom of Style has always championed Jaggy Nettle, featuring us months before we actually launched, a critical time for any new, promo hungry label.  Its something we have always been really appreciative off.   I had no idea what a blog was prior to meeting Michelle, but have come to learn and appreciate the freedom of expression they promote, straddling the mainstay press in a manner that appears to render the former 'spent'.  It's a DIY ethos I can relate to.
The idea for the JNXKOS collaboration came about after a conversation with Michelle about just how difficult it can be to get a good basic garment; good fabric, good make up, good shape.  Seems simple enough?  We decided to start with t-shirts and Michelle got on the case getting the designs over to us in her inimitable, exquisite handwriting.  The faces that adorned the original artwork were particularly haunting.  This was a completely new product for us and the starting point was finding someone to make it.  There are lots of options abroad but that was never part of the plan so we set about sourcing in the UK.  That's when things got a bit difficult.  Even when you find someone who makes their t's in the UK, they're never gonna tell you where, they probably spent long enough setting it up and don't want someone jumping on it through the back door. Fair enough.  Eventually we tracked someone down in Leicester but, in the end, that didn't work out so we were back to square one. 
At the time we had started working with a new pattern cutter, a lady named Lisa.  She was a pattern cutter and development manager at Castleblair in Fife, one of Scotland's last major garment production facilities and a leading supplier to Marks and Spencers.  We had a brief chat about the frustrations of securing quality production in the UK and talked about how good it would be to set something up.  Long story short, Lisa bumped into an ex colleague, a man called Kenny and within a few weeks and I mean literally a few weeks, they had reignited Fifes manufacturing fuse with the opening of their new design and manufacturing premises.  Production sorted.
Fabric.  It had to be good; we wanted the best we could get and trialled loads of swatches from across the UK.  We settled eventually on a family run firm, again in Leicester (one of the last strongholds) to knit our specially commissioned cottons.  Kenny and Lisa worked on turning Michelle's drawings into workable patterns and we started having a think about the boring stuff such as care labels and packaging.  We decided to handprint the neck labels in the end although the first 38 that were made feature a commercially printed label.  These will no doubt become priceless, collector's items in time.  Other commitments kept creeping in though and there were times I felt it was never going to happen.  Spring became summer  (at least on paper.)"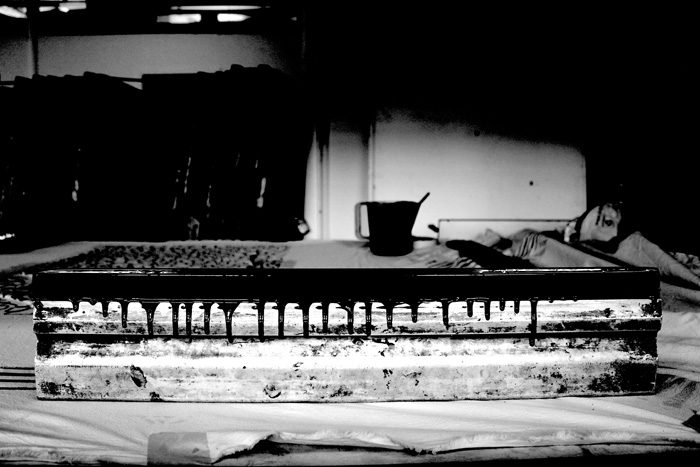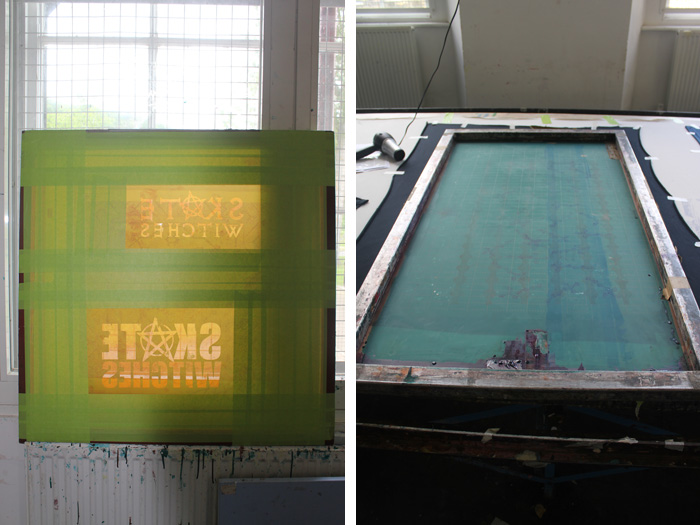 "Finally we got the first one out, Michelle's BF t.  Black Egyptian cotton, white 'Skate Witches' print and posted it out for her delectation.  I won't even tell you what her reaction was other than it's a good job we're thick skinned!  I blame her shit drawings.  Anyway, it was back to the drawing board with a clearer idea of what we were after and we nailed the next batch. 
The wee production unit in Fife that Kenny and Lisa set up now employs 5 local people, remnants from Fifes halcyon days of clothing manufacture.  They continue to grow and are in the process of opening a new facility with more staff waiting in the wings.  Respect."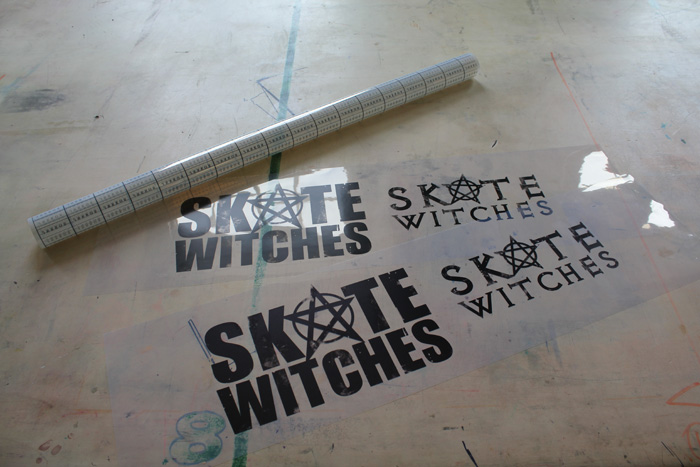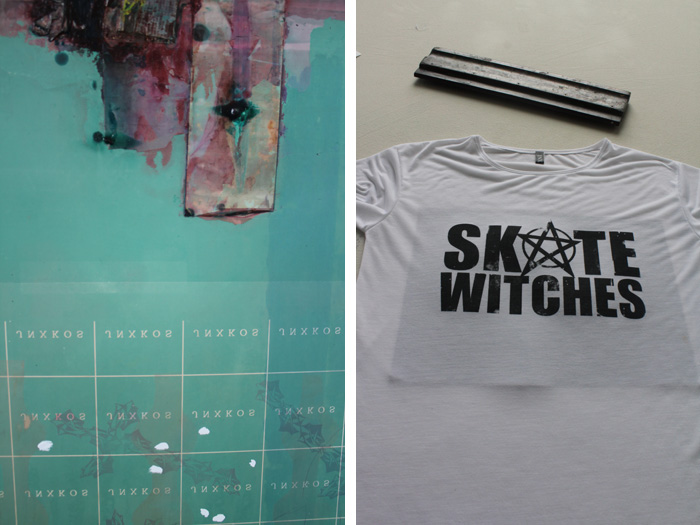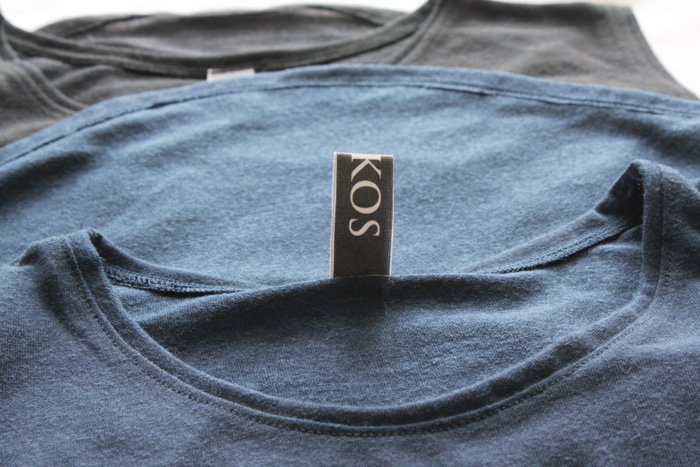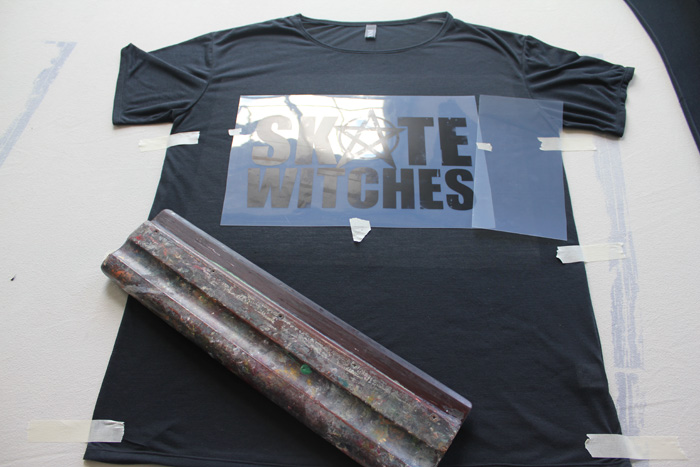 The story doesn't end there though. I also probed their brains about their actual printing process, important since they have found ways to prints cashmere and tweed, which they'd been previously told was impossible..
"Printing has always been our favoured medium at Jaggy Nettle. We love the idea of being able to transform a fabric through the use of graphic, pattern or motif. Printing cashmere has been a long love affair over the last 15 years.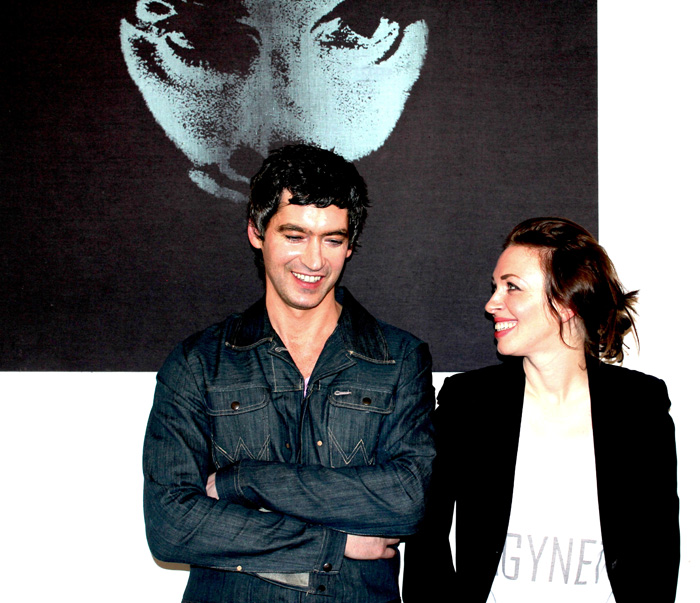 Jason and Emily of Jaggy Nettle
It all started at art school when trying to choose an interesting substrate for a final year project. Not many cashmere companies were taking risks back then. The mainstay was a twinset and pearls approach. Printing knitwear is a challenge as garments come fully-fashioned as opposed to cut and sewn.  It has taken many years of research and trialing to perfect the approach synonymous with our brand. The hard work paid off leading to design and production for some of the world's biggest designers and brands.
Pringle were the first to make contact and commissioned designs for their A/W 2000 collections, a vintage inspired collection that lent itself well to motif printing collars, jewels and corsetry. Work on design and production continued with Pringle over a period of three years. Other clients included Hussein Chalyan, Shirin Guild, Gharani Strok and Dries Van Noten amongst others. Rather than becoming a design and production outfit, we decided to harness our expertise and develop a brand that could exploit the techniques developed over the past decade. Jaggy Nettle was born - the initial idea to take a simple silhouette made in luxurious Scottish cashmere or Harris Tweed and update through the use of simple graphics, pattern or motif.  
Our recent collection of printed Harris Tweed garments sold out at Milan and Berlin fashion week and now stock in some of Europe's finest boutiques.  Our technique of printing tweed is unique to us and an industry first as far as we are aware.  Our print process is just as important to us as the fabric we source or the makers that we use. All our hand printing and inkjet printing is carried out by ourselves in Scotland.
Printing is carried out in extremely controlled conditions; you cannot have too many variants in the process, especially when printing 100 of the same jumper for example. The tiniest change can affect the overall outcome such as a 1gm difference in dye or different gauge of screen. The finishing process (fixing and washing the garments) also has to be a stringent one; we always have a fixed program and special detergent to wash out residual dye. We pride ourselves in the handle of our finished pieces that reflects the luxury fabrics that we use."
So, as you can see, there is so much more to JNXKOS that might first meet the eye. If anyone was going to turn my "inimitable, exquisite handwriting" (that, by the way, was a large dose of sarcasm by Jason regarding my somewhat awful drawings and scribblings), then it would be Jaggy Nettle.
Having everything made in the UK, primarily Scotland, was a big selling poing when it came to working with the brand. We are now gearing up for our next t-shirt release at the end of July. And then, who knows what!
Queen Michelle