I never just post press releases verbatim. It's lazy and shows no imagination. But in this instance I shall, because the designer, Geoffrey B Small, has created a collection with such a political message and passionate idea behind it, which is clearly very important to him, me reinterpreting his words would feel somehow wrong.
I have featured Geoffrey B. Small many years ago, for another of his collections which, similarly, had a political and intense message behind it.
For his latest AW12 collection, 'You Cannot Evict an Idea', he explains what he is trying convey with this collection and the presentation in Paris:
"An international artistic collaboration which involved Amsterdam-based Swiss street artist Bust-art, English architect Paul Bradley, Los Angeles-based Supermodel casting director Stephane Olivier, Milanese runway photographer Guido Barbagelata, and documentary film-makers Alan Grazioso, Patricia Alvarado Núñez (Boston) and Jerome Chichet (Paris), created an atmosphere of the audience being "kettled"  or rounded up in a contemporary demonstration situation and surrounded by riot police, vans and horse-mounted policemen. In the middle of the Guantanamoesque staging, a parade of models covered in ashes and dust appeared in Small's newest hand tailored collection as ghosts of previous generations of workers who, when faced with intolerable exploitation also risked everything they had and protested for their individual and collective rights in the society of their time. A raw chaotic soundtrack echoed sounds of  voices from Egypt's Tahrir Square, to 1920's coal miner worker conditions, to contemporary Occupy protests against Karl Rove and Wisconsin Governor Scott Walker, and lone American Senator Mark Kirk's Congressional speech against the recently signed NDAA law allowing for indefinite detention of American citizens anywhere in the world without any charge or trial. "
He appealed to me initially because he is so active in trying to change the world and people's views, and describes his approach to fashion as "an art medium to speak the truth about the world and not lie about it."
I have said many times before, that this kind of passion, drive and motivation attracts me, to not only artists, but to people of all walks of life and in all areas. Passion about anything, to this level, really excites me.
The collection itself speaks volumes of the message, as we see heavy workwear and utilitarian influences infused with nods to the 20's and 30's. It's sombre in mood with greys, whites and browns all dominant hues, but the tailoring, though loose, makes everything very wearable.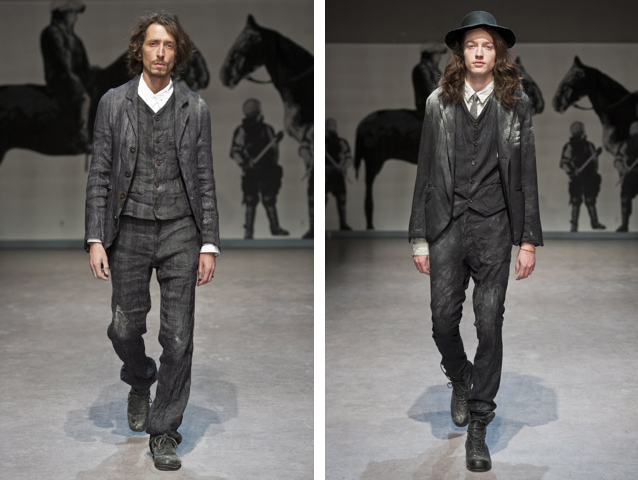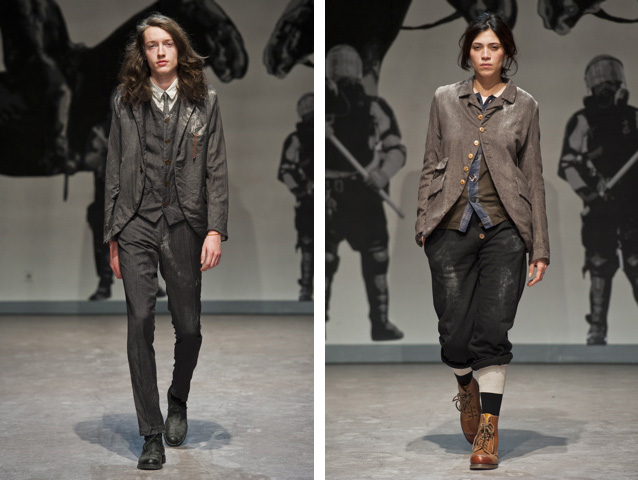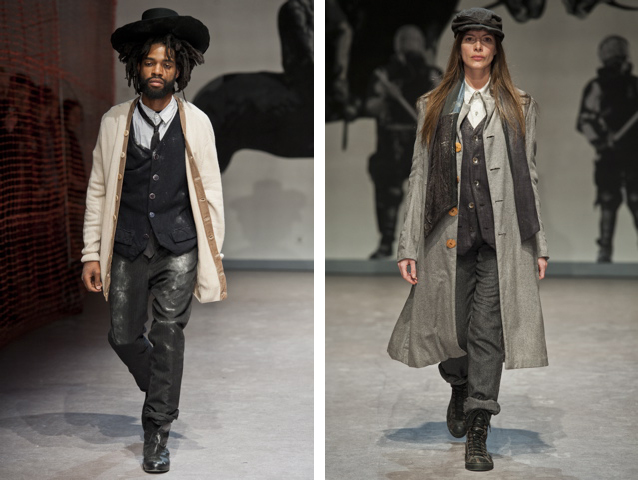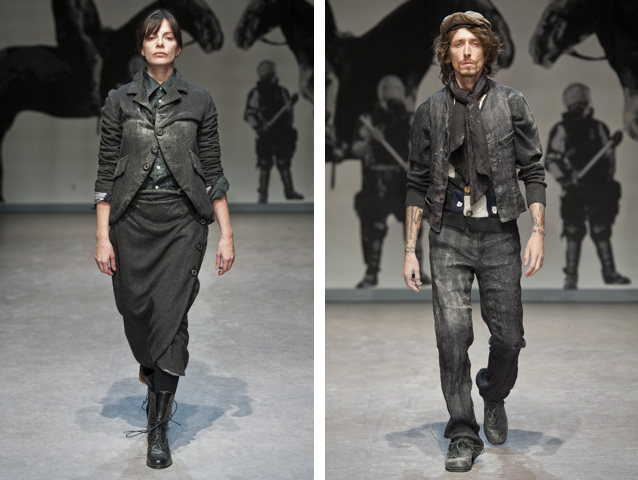 Queen Michelle