It's something we all do!
Take our surroundings for granted...
I'm still giddy from Berlin. The sights, the sounds and especially the buildings. 
And yet here I am ,surrounded by some of the most astonishing scenery and buildings in the world, that I almost forget is there!
Here in Central Scotland, we are surrounded by staggering heritage and history. We, many of us, literally drive past ancient castles every day, without even really seeing them anymore.
Castles like Stirling or Edinburgh have become just buildings glimpsed through a car or train window...
Edinburgh Castle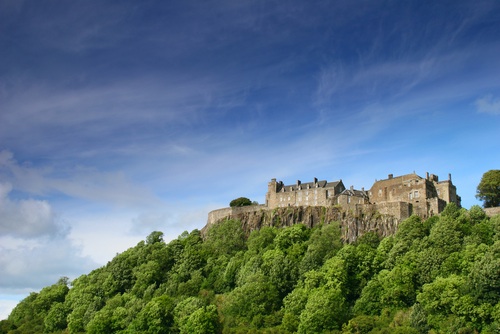 But every now and then, something happens to make you literally stop dead in your tracks.
I was searching for an image of Striling Castle for a job this week when I came across this image...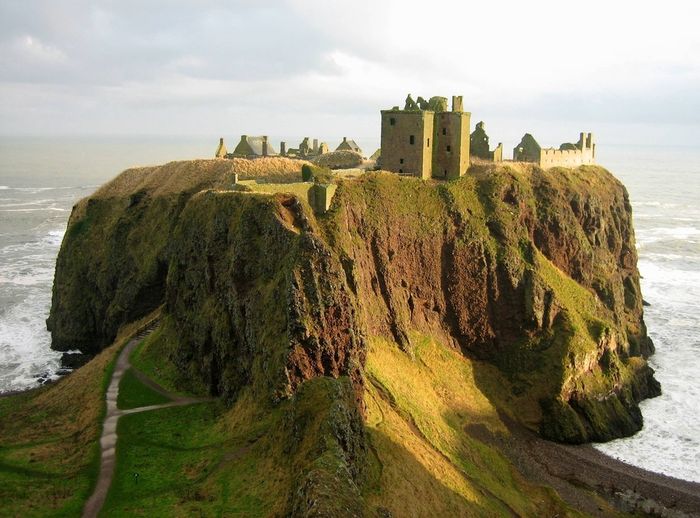 Holy Crap!!!!!
Was it real?
It looked real, but eeeeeeeek. How wonderful and other wordly was it.
Turns out, it is indeed very real. It is Dunnottar Castle
(I'm sure that by this point Prince B is laughing and shaking his head at my woeful ignorance)
Dunnottar Castle is situated in a dramatic setting on a cliff top near Stonehaven in Aberdeenshire. The castle remains includes the keep, the barracks, lodgings, stables and storehouses, chapel and drawing room. The Castle was the home of the Earls Marischal once one of the most powerful families in the land. The last Earl was convicted of treason for his part in the Jacobite rising of 1715, and Dunnottar was seized by the government. The buildings were much neglected until 1925 when the 1st Viscountess Cowdray started restoration work. The Castle is open to visitors.
 During the 9th Century King Donald II was killed defending Dunnottar Castle from a Viking invasion. The Vikings seized and destroyed the Castle. In the 12th Century Dunnottar Castle became a Catholic settlement. At various times, William Wallace, Mary Queen of Scots, the Marquis of Montrose and the future King Charles II, all stayed at the Castle. 
 When Oliver Cromwell invaded Scotland in 1650, Scottish Crown Jewels, the 'Honours of Scotland' were stored at Dunnottar Castle. Cromwell's army attacked the castle, and a small garrison held out for eight months and saved the jewels from destruction. The crown, sceptre and sword are now in Edinburgh Castle.
In 1685,167 Covenanters were imprisoned in the Whig's Vault below one of the buildings in the Quadrangle. Some took the oath of allegiance and were released, others died of starvation or died trying to escape. The rest were transported to the colonies.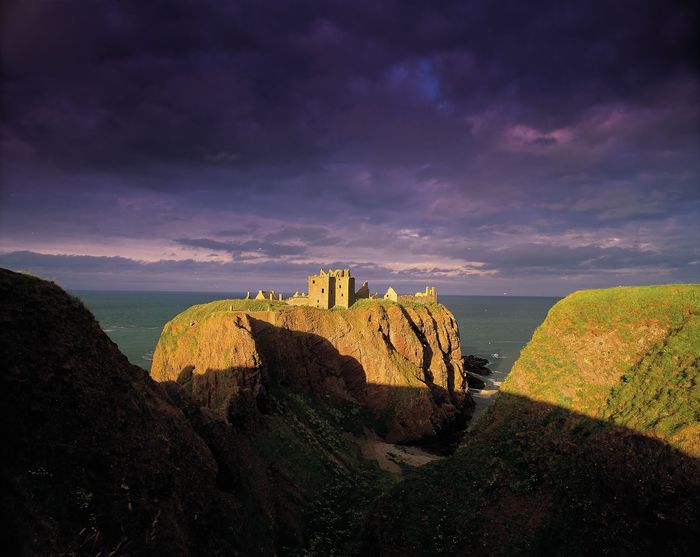 Of course no ruined castle would be complete without a ghost.
 The spirit of a Pictish "green lady" has been seen in the brewery at the Castle. She is said to be looking for her "lost children" who are the Picts who converted from her religion to Christianity around the 5th Century AD.
This has just been added to my "to see" list for  later this year...
Queen Marie