I'm talking about The Sock Monster!
You may not be aware of it, but every home has one...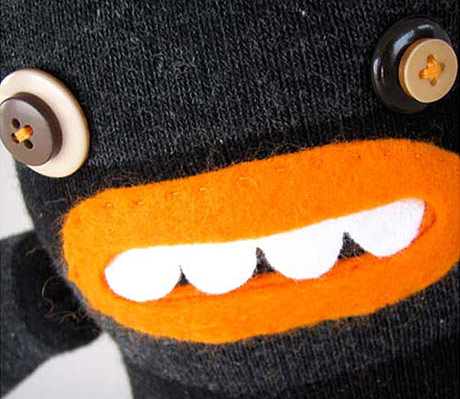 monster via here  
 Every sock monster is different.
He lives in a different place and he has his own distinct appetite - a monster modus operandi, if you will!
Some of them like to eat only one sock at a time or perhaps just chew holes in the toes. 
Empress Gillian confided in me last night, that her sock monster lives in her washing machine where he likes to chew a hole in one heel of every pair she owns. As all of her socks are multi-coloured and different, this has proved rather problematic. She warned me that the day was fast approaching when none of socks would match at all.
My monster is is an altogher different creature.,
Truth to tell, I'm starting to suspect that I have a ninja sock monster living in my home. 
I have no idea where he lives or what he looks like, all I know is that in the last couple of weeks he has devoured almost every pair of socks I own.
They have simply all disappeared. There is scarcely a sock to be found in the entire Palace.
I turned the place upside down and after an almost fruitless search lasting over an hour, all I had to show for it was two sad little black socks, that weren't even a pair!
If I knew where to find him, trust me, I would be giving him a piece of my mind.
If money was no object however, I would obviously just pop over to Pantherella and order me up a whole house full of luxury new socks...
But until I win the lottery I shall just have to make do with BHS as usual and hide them somewhere he can't find them. 
Where does your sock monster live?
Queen Marie
x