Like many of you I'm sure, I was captivated by the documentary 'Man on a WIre' directed and produced by James Marsh.
So I had similar hopes for his latest film Project Nim  -
 Project Nim is the story of Nim, the chimpanzee who in the 1970s became the focus of a landmark experiment which aimed to show that an ape could learn to communicate with language if raised and nurtured like a human child. Following Nim's extraordinary journey through human society, and the enduring impact he makes on the people he meets along the way, the film is an unflinching and unsentimental biography of an animal we tried to make human. What we learn about his true nature - and indeed our own - is comic, revealing and profoundly unsettling.
Using a mixture of interviews, archive, home movies and reconstructions this film focuses on the emotional element of Nim's extraordinary journey through human society. It uncovers the enduring impact he made on the people who loved and worked with him, to bring us an 'unflinching and unsentimental biography of an animal we tried to make human'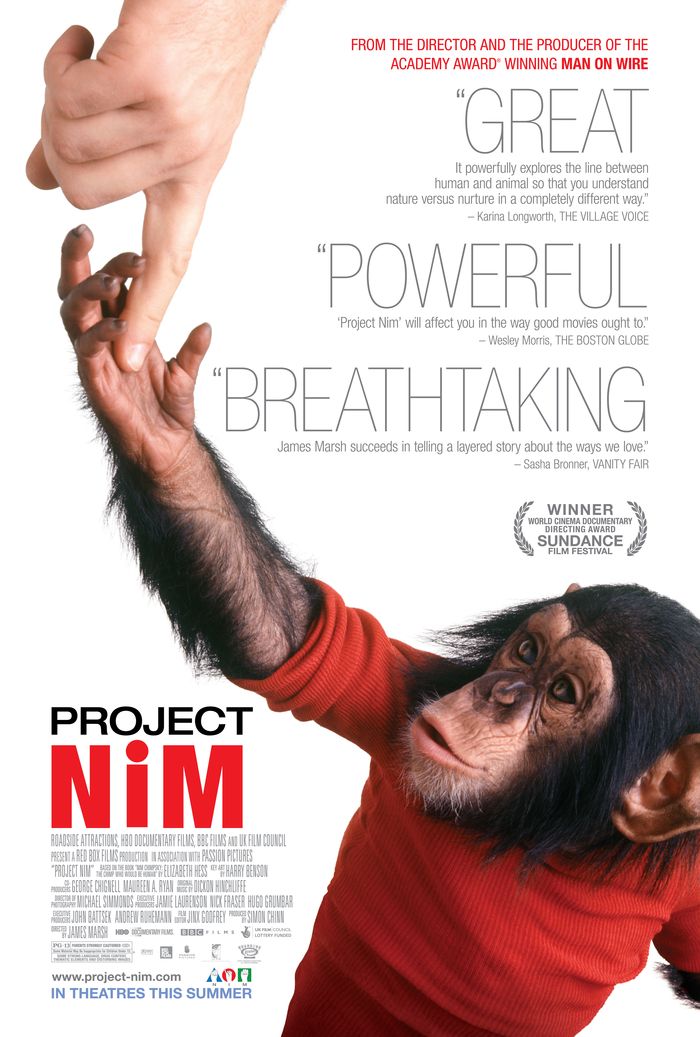 But believe me when I say, this film is far from comic.
It is harrowing, upsetting and deeply troubling
It took me several attempts to watch this film all the way through. I cried,  I shouted and at some parts I actually stood up and left the room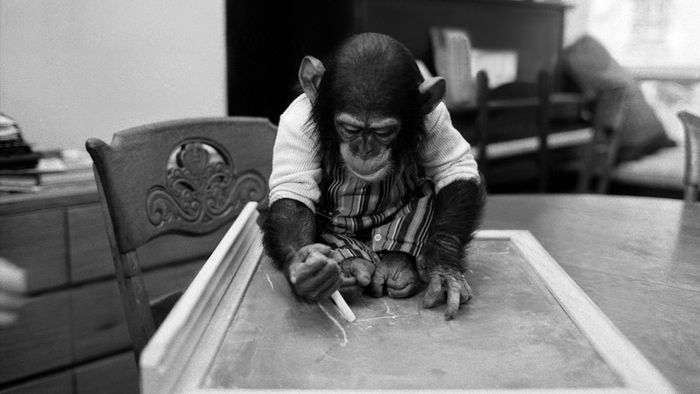 "The brainchild of Columbia University behavioral psychologist Herb Terrace, the Nim Chimpsky experiment began in 1973, when Terrace handed a newborn chimp over to Stephanie LaFarge, a warmly maternal woman (and Terrace's ex-lover) who brought the animal into her home. With the traditional rigors of a laboratory out the window, attempts to bring Nim back to Columbia for testing proved highly inadequate, and LaFarge's permissive style as a nurturer proved so problematic that the chimp was taken from her. So commenced a long — and for the animal, severely traumatizing — series of caretakers and different living situations, from a lush estate run like a commune to a hellish laboratory for medical experiments. 
The experiment ended in 1978 after which he was passed around several institutions before finally being rescued by his human family. Although Nim did eventually learn 125 different signs, Herbert Terrace admitted defeat, concluding that Nim hadn't acquired anything worthy of the name 'language' (as defined by Noam Chomsky). Without combining words and then being able to switch combinations to change meaning, what Nim used was more like a code than a language - he was a chimp who could mimic."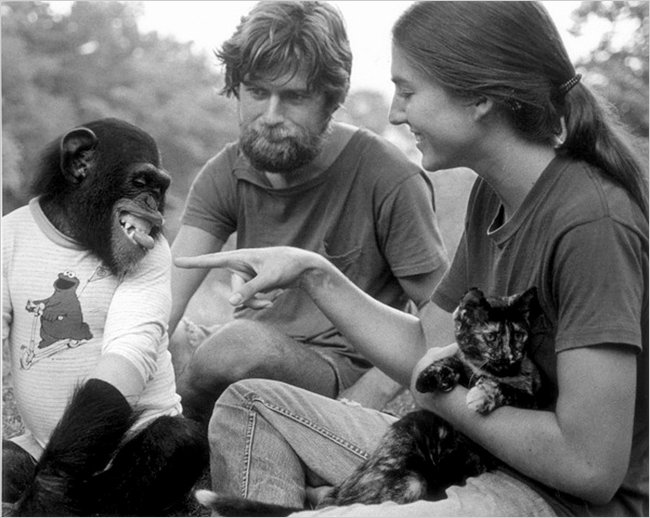 What they may have set out to do, was humanise Nim. What they succeeded in doing was showing man's inhumanity to other creatures. In the name of science, the arrogance , cruelty and disregard shown towards him is staggering and shameful.
From footage of him as an innocent baby, you follow the tortured path his life would take until his death on March 10th 2000 . Nim was 26.
Breathtaking too, are the shots where you see not just his intelligence and personality but the cold fury and indiganation blazing in his eyes.
There were happy times in his life too. He had people in his life who loved him deeply and true friends who would always seek to do the right thing for him.
But it in the main, it was a life that had been devastated in the name of research.
Joyce Butler, one of his signing teachers (pictured above) when interviewed says -  "We did a huge disservice to him and his soul, and shame on us"
Shame indeed...
Queen Marie
x