Gifts from friends mean the absolute world to me. I don't expect gifts to be given to me unless they are given from the heart since I don't give gifts that aren't heart felt. I feel gift giving between friends/boyfriend/family should be a mutual state of understanding that love is being expressed.
If I think a gift has been given but there was no heart in it, then chances are I won't accept it, or I'll even return it. Many an old boyfriend have been sent their gifts back over the years. But I know that of all the gifts I have kept, each and every one was given from a place of love, even if only it cost 50p.
One of the most precious gifts you could give me, regardless of monetary value, is a ring. I cannot tell you how much a gift of a ring mean to me. There is something so very personal about gifting a ring, and it's not related to marriage as most of my ring gifts have either come from friends or the Queen Mum, but the act of wearing a ring from a friend says so much about friendship. In my opinion anyway.
When Queen Marie gave me my 'Faith' thing for my birthday I admit I cried. Needless to say I was sad that it was a bit too big for me. However, not one to be defeated by such things, I decided I would wear it as a necklace.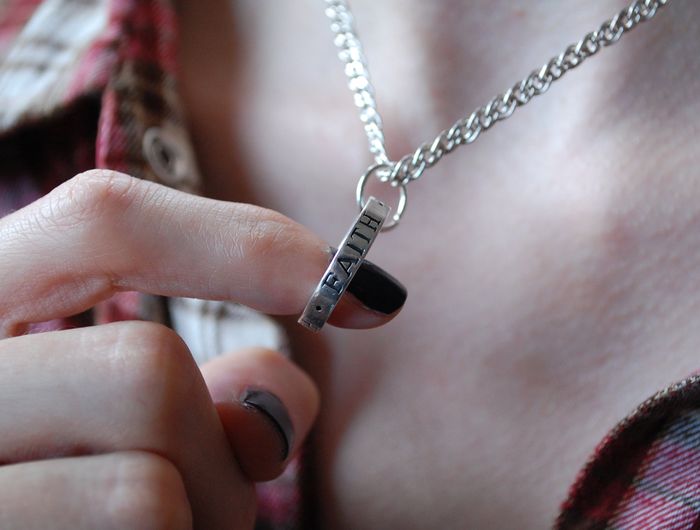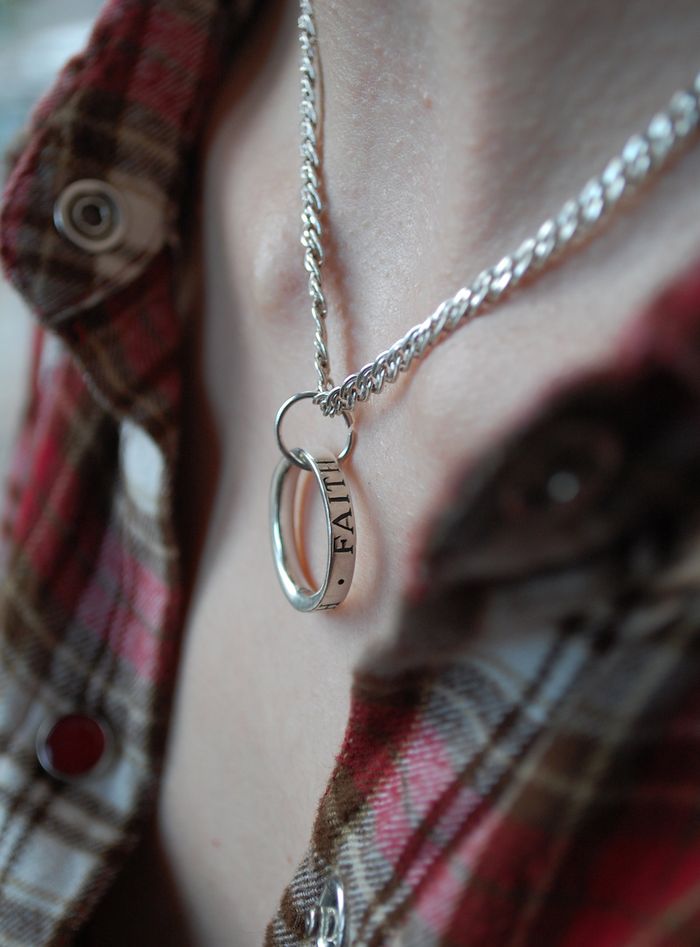 Now I don't need to take it off.
The chain is a little bit of personal history too. It was a necklace given to me for my 16th birthday by my mum and dad.
Originally it had a little locket on it, which was given to my then boyfriend because inside the locket I had very sweetly put our initials inside on a bit of paper in that kind of big, bubbley writing teenage girls are so fond of, obviously thinking we'd be together forever and ever and ever. I'm surprised I didn't draw a My Little Pony on there too! Probably did actually...
But I was utterly delighted when I found the chain - it's over 20 years old. It had broken a long time ago, but I fixed it, cleaned it up and it's as good as new now. Perfect with my Faith ring - a lovely blend of past and present.
Queen Michelle