If you haven't noticed, (if not, where the hell have you been?!) music plays a very important role in my life. I can't manage life without it. I relax to it, I work to it, I sometimes cook to it, I cry and laugh to it and I simply can't go on public transport without it  - pretty much everything I do has a soundtrack.
Very importantly though, music is a must for the most relaxing bath times. I often take my MP3 player and listen to music when I'm in the bath but the headphones are a pain, because I have large, full ear Sony ones. I hate the in-ear headphones as my earhole is too little, so what I really need is little mini speakers to plug into my MP3 player. 
Yes, Apple so some lovely slick ones, as will no doubt all manner of posh electronic companies, and the likes of Curries too....but I don't want little, slick speakers. I want speakers in the shape of cupcakes!
Thanks to Semk, I could have music coming out of cake. Does it get much better?!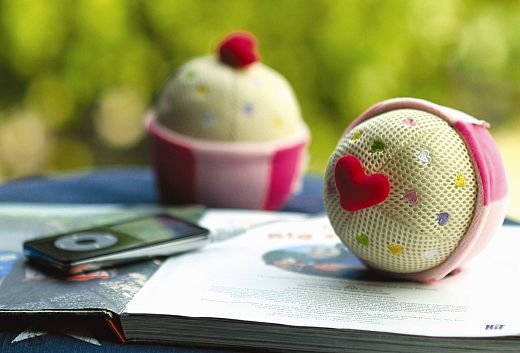 Queen Michelle