Many of you will hopefully be familair with Discount, the site of designers Nadia Napreychikov (Foxyman to some of you) and Cami James. I freely own up to the fact I love these girls! They are not only exceptionally talented designers, but they bravely decided to upsticks and move from Melbourne to Bangkok to begin their careers. They have just taken a leap into the void, the unknown without even owning a sewing machine to begin their label. THAT is rock and roll.
But what I love is their attitude. They are not sitting around waiting for the time they have a nice sewing machine before they begin creating - they are just working with what they have at their disposal, and with a healthy dose of attitude, they show us that creativity doesn't need expensive equipment to be expressed - all you need are your hands, some patience and whatever's lying around or can be bought cheaply.
Their latest 'no sewing machine' project is this wonderful t-shirt. They took slices out of a t-shirt and used safety pins to create a cross shape. Here is the lovely Cami modelling the creation.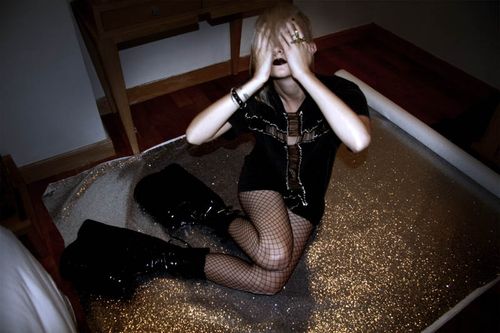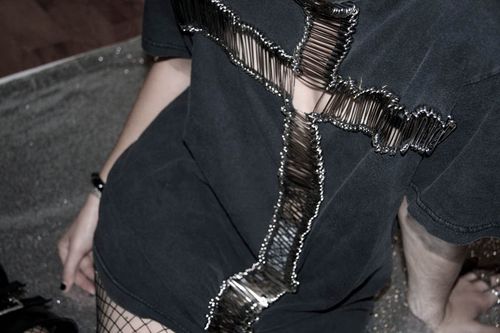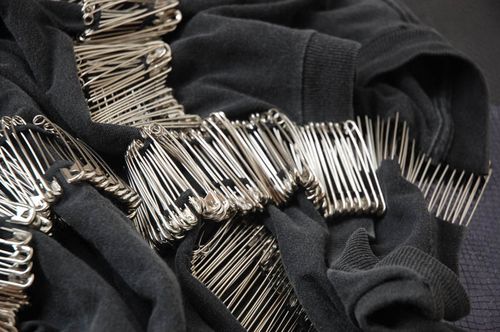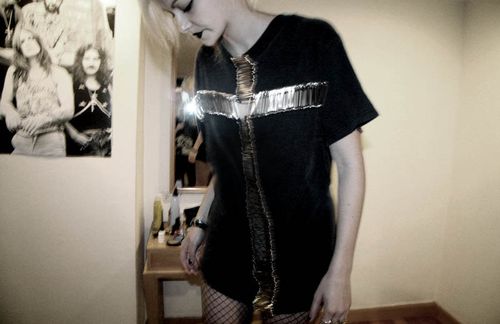 So simple yet so stunningly effective.
I adore crosses but when the Queen Mum was in hospital she took to carrying lots of them, obviously her own way of reaching out to God, whoever, to make her better, so I have had a reasonably uncomfortable relationship with them for a while, but I took on a project (which will be revealed in the coming months) that started my reconditioning.
When the Discount shop goes up, I will hopefully be able to buy one and complete my cross reconditioning!
Queen Michelle