I have a weakness for military style jackets. I have had it as long as I can remember and usually they are hard to find until military inspired trends come round, then I have the pick of them! My best scoop was of course the band jacket from East End Thrift Store I picked up when I was in London for last Fashion Week (Booo! No Fashion Week for me til at least next September!). But my fascination with military regalia doesn't stop there. One of my many hat whims is to own one of those helmuts with the big plume of feathers spilling from the top. If I had space in my house it'd be filled with the most bizarre and odd hats imaginable. I don't, so I must limit myself!
I revelled in the drama of Katie Eary's AW09 collection which looks like some kind of dark and twisted military uniform. It's flambouyant and fun and not a little camp. All good things in my book.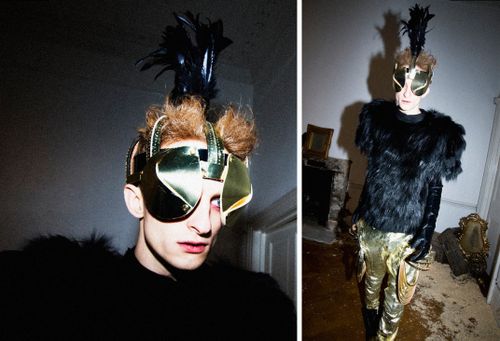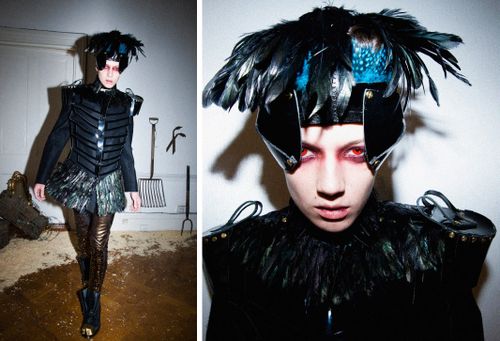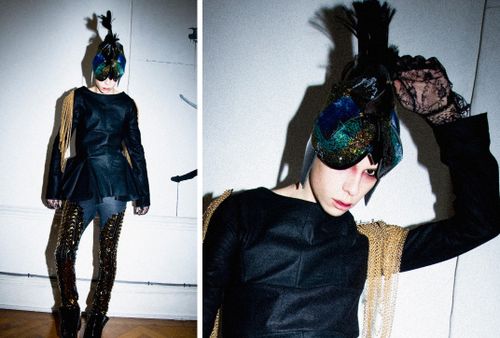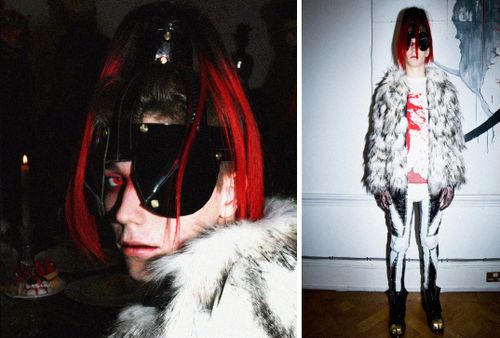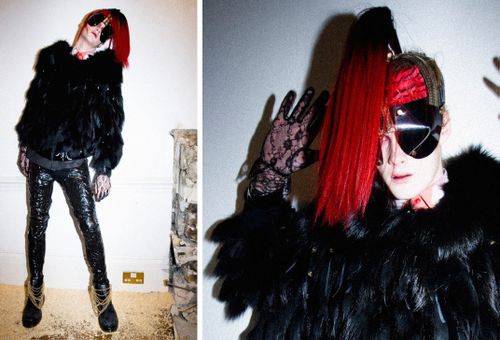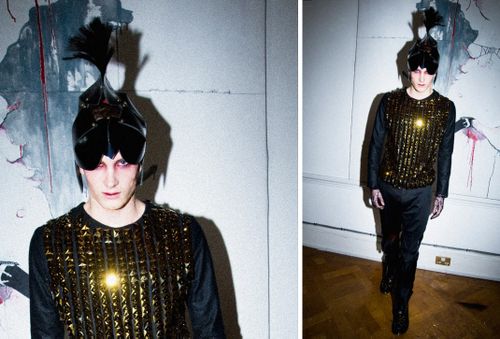 If you really want to get stud happy then why not stud the whole front of a sweater? I might partake in that myself actually. The collection has everything in it - nothing is left to chance. Feathers? Check. Lace? Check. Studs? Check. Metallics? Check. Chains? Check, check and check again.
Katy has injected a large dose of silliness into what can often be a po-faced season. She clearly loved her dressing up box as much as I did as a kid.
I was remininiscing with my Prince the other day about how the Queen Mum used to welcome all manner of waifs and strays into our house. She felt sorry for all those kids who she felt weren't being looked after. I had this one friend, Andrew, who was a very bad lad. He came from a notorious family but me and Andrew were friends. He looked after me because I was so quiet and introverted as a child and he made sure I never got bullied. I had this box which was filled to the brim with masks and hats. Nothing but masks and hats. Andrew used to come over and we'd play dress up in the box for hours.
Anyway, I digress! The point is that my love of masks and hats goes way back and Katie Eary has a particulary fine selection. I suspect me and Andrew would have much fun playing dress up.
Queen Michelle