When Jane Shepardson joined the Whistles team to give them a much needed overhaul, I was intrigued to see what she would do with the brand. Whistles always seemed like one of those stupidly overpriced high street shops that only ever appeared to work with ditzy florals, linen and fine knit jersey.
Looking through the online shop, now that she's a few seasons in, it seems that she has taken away the middle-class-mumsy look they had previously and replaced it with much more directional silhouettes. But to be honest I'm still a bit 'meh' about it.
However, I do really like this clutch covered in zip pulls.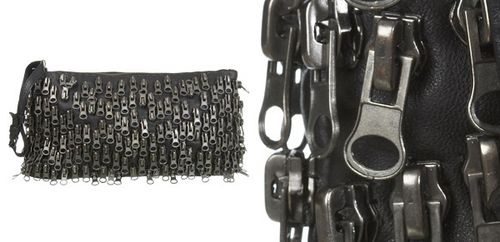 Imagine how wonderful this would be in real life with all those zips jangling around? You could go crazy and thread lots of thin chains through the zips and add some charms.
I reckon this bag would get a fair amount of use from myself. I hope it goes on sale because I'm still not willing to give Whistles one hundered and fifty of my finest pounds just yet. Half that number and then we might have a deal.
Queen Michelle