Sometimes the path of information moving along blogs is quite odd. A couple of weeks ago I received and email from a girl called Rachel telling me about a new label called e.g. She particularly pointed me in the direction of a blue dress she thought I'd love. Panelled, futuristic and a wee bit Emilio de la Morena. I sauntered over to the site and she was right on every count. I placed my order for the dress immediately and began my patient wait.
Then a few days later Style Bubble posted about the label. I then received an email from Jeanpierre from e.g. telling me about them and I informed him that my order had already been placed. When he realised who I was he told me that Emma, the designer, was already making my dress and it would be arriving shortly. I didn't get any of the 'empowerment' chat Ms Bubble playfully had a pop at, but I must admit that when I put the dress on...I felt a smidgen empowered!
It arrived last week beautifully packaged and gorgeous.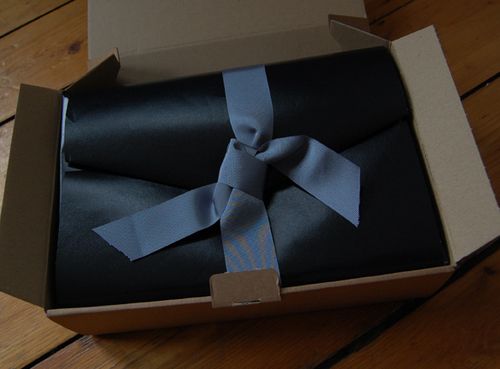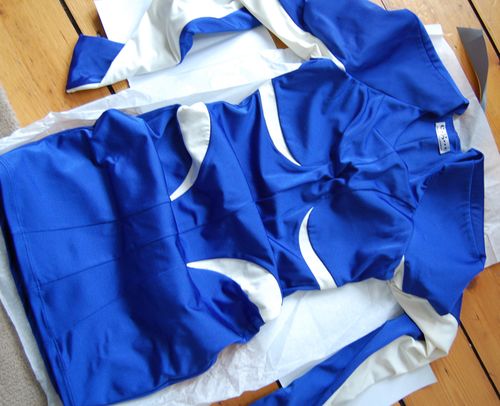 I can vouch for the quality of this dress - it's wonderfully well made. It's not just a bog standard lycra dress, it's double layered for maximum strength and durability with what feels like slight padding in the shoulder area. It's exceptionally well structured, especially considering it is just lyrcra.
I immediately tried it with some electric blue tights and my Givenchy cream wedges.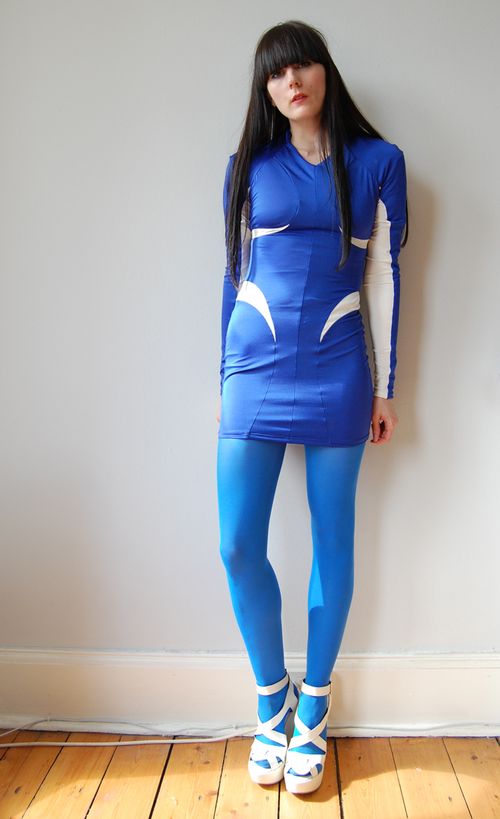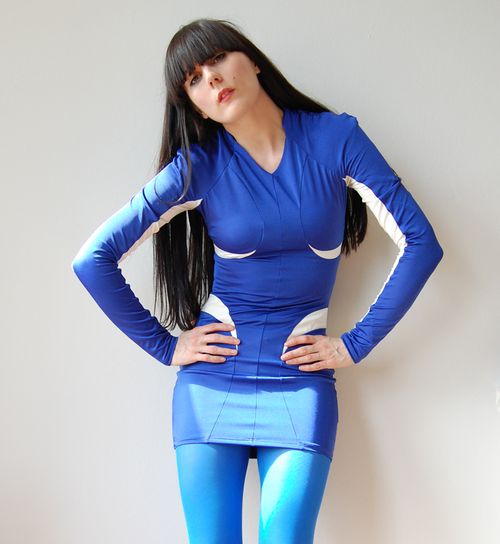 It's undeniably very short and tight, so I will mostly be wearing it with Angie's cage skirt on top, unless I invest in some Spanx for pot belly days, but quite frankly the thought of squeezing myself into industrial strength underwear is too depressing, and since I refuse to give up Domino's pizza with extra cheese, sticky toffee pudding, salt and chilli chicken or pancakes with chocolate spread, I'll just need to live with the occassional tubby tum.
Of course not every day is a pot belly day (I don't eat pancakes and chocolate spread for breakfast every morning), so when I can I will wear it as it is.
I couldn't not try it with my wonderful Spartan leggings from my leggings pimp, who made them extra long for me. This looks like a full-on costume. It lends it an appealing super heroine/speed racer/Power Ranger/Pam Hogg kind of vibe to it. And I love it! I just need a good eye mask to match. The Luella Batman sunglasses would have been perfect!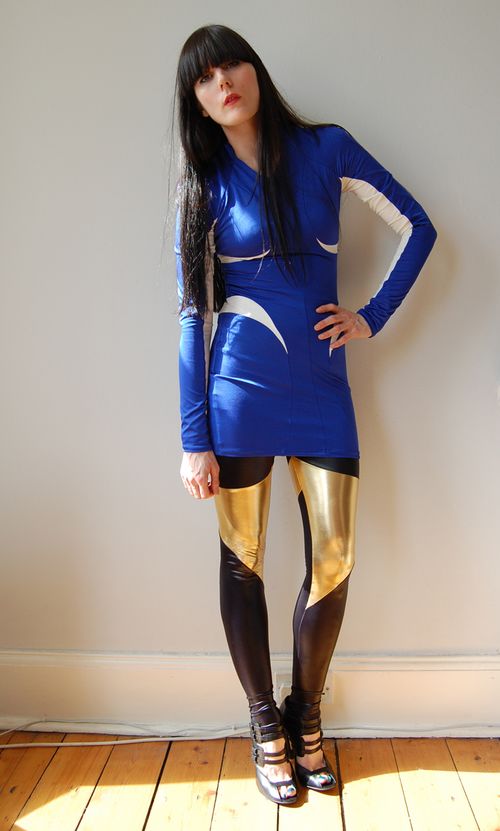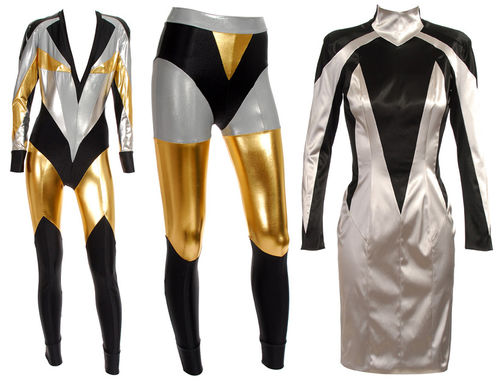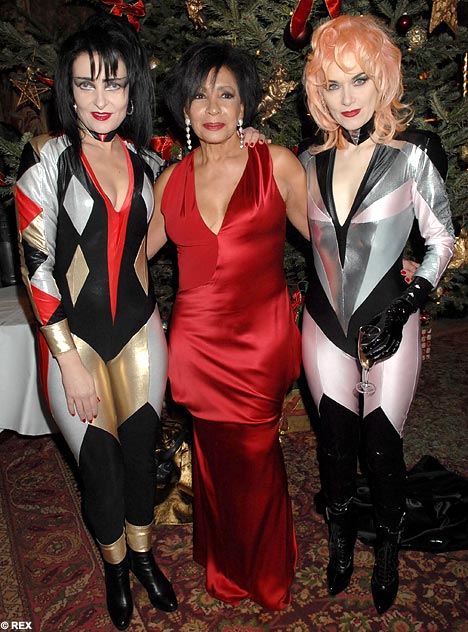 And of course the gorgeous blue colour compliments my Giia neckpiece perfectly.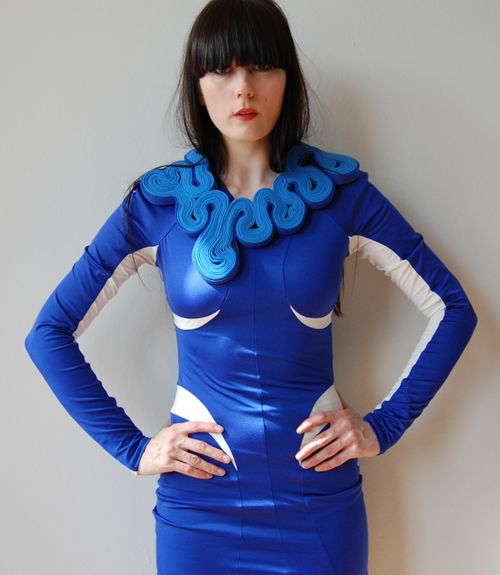 It will also look great with my leather and vintage garter belts and my DIY pvc peplum layered over the top (again for pot belly days), but since it was really hot while I was taking these photo's, had I tried on any more clothes I was in serious danger of suffering death by lycra.
Hopefully I can save up some pennies for this formidable jacket which looks equally amazing.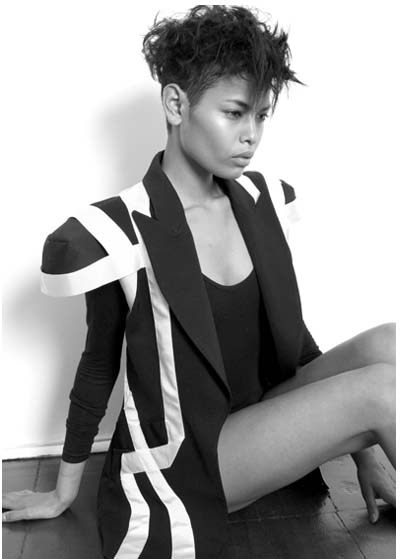 Queen Michelle