In terms of shopping I didn't get much done at all really.
For ages I've been carrying around a Shinzi Katoh tote but took my Miu Miu with me to London since the tote is completely filthy. I'd honestly forgotten just how damn heavy it was so the thought of lugging it around the whole entire time pretty much filled me with dread.
When we finally arrived in London we managed to fit in Harvey Nichols since we were staying in Kensington. I saw this fabulous Diesel Black Gold bag which had my name written all over it. Squishy soft leather, padded carry handles, a chain shoulder strap and chrome bits. Hell yeah!
It's also light as a feather and big enough to carry spare shoes, which, as it turned out, was a necessity with my knee injury.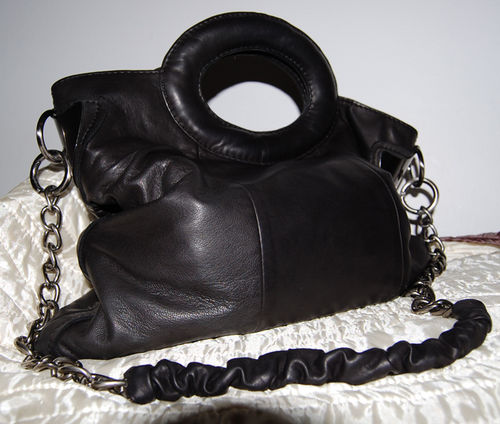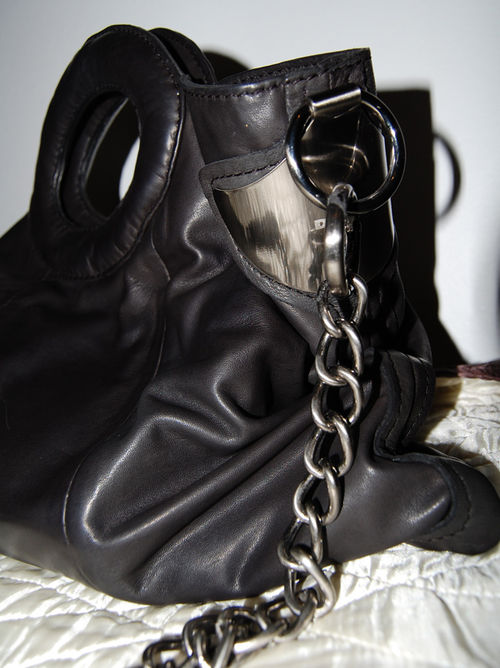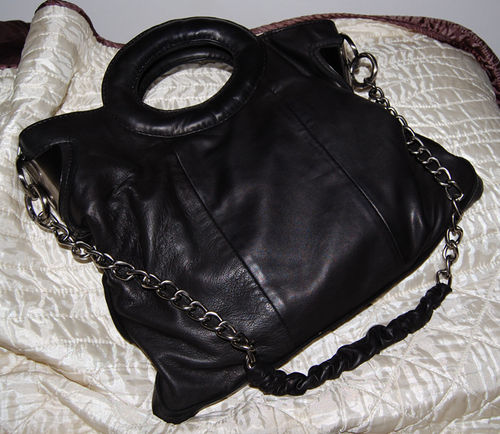 The flat 'sensible' shoes which I took to London, which were meant to be my walking around shoes, were an old pair of white winkle pickers. Oh how deluded I was! Within a day of wearing them they had torn my feet to shreds. I was very close to tears after walking back from Harvey Nics to the hotel. Needless to say by Saturday morning I was freaking out as my plan was to wear my heels then change into my flat shoes for general traipsing around.
Luckily my gallant Prince came to the rescue and rushed out on Saturday morning and bought me a pair of Converse. Not just any old Converse - patent white ones!
After my knee injury on Saturday night I ended up constanstly flitting between heels and these, since the flat shoes would put strain on my knee whereas the heels meant all my weight was on my thighs, but the heels meant I couldn't walk anywhere very fast! It was like Changing Rooms but with shoes!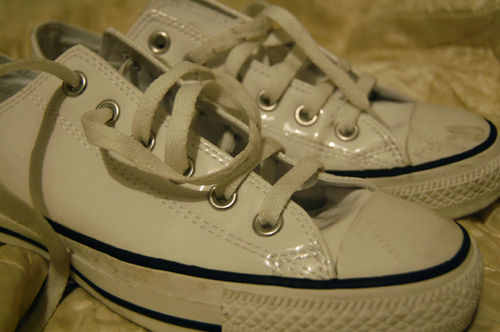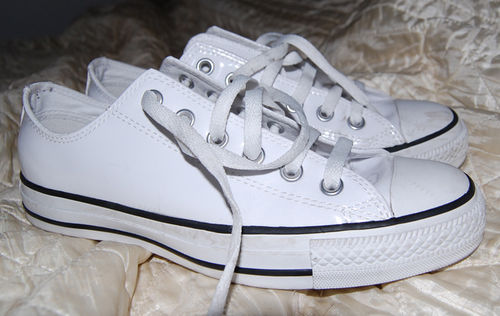 I'd been eyeing these up for a while since my other white Converse have definitely had their day!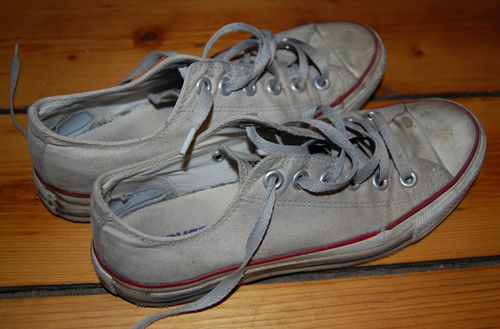 As I mentioned - I will post photos of the clothes I bought at the weekend, which were actually very few to tell the truth. But some gems did come my way...some very special gems indeed.
Queen Michelle