I just want to kick things off this weekend by wishing each and every one of you a very Happy New Year!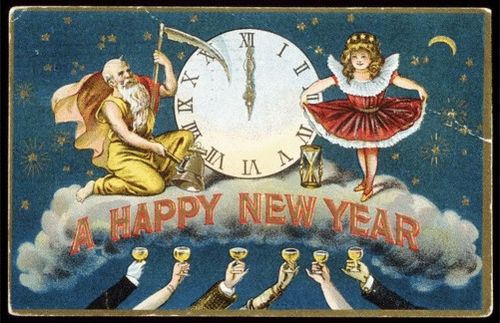 Hope you had fun at the bells with those you love and are getting ready to face the year ahead.
Let's be honest 2008 was a bit of a dog, so let us look forward to brighter times.
I don't make resolutions as such, but I have decided on one thing, I am going think more positively. About everyone, including myself and everything. I know the world seems like it is going to hell in a handcart and we are uncertain and insecure about the world, work, money, love but my prayer for us all, is that this year, we won't just survive but we shall blossom and thrive.
The best way to achieve this is to set and maintain the right mindset.  A mindset of optimism.
Studies at Yale University found that cheerful people enjoy better health, living on average, 7 years longer. Optimists always look on the bright side. Yes it may be unrealistic,but your life will be much richer if you train it to focus on joy and happiness.
Be hopeful, be unrealistic, and as you go to bed each night, think of three things that you enjoyed or went well that day.  In other words count your blessings!
Don't forget to be kind and to look out for others. On that note, remember Queen Michelle in your prayers today.  She went back to Ardrossan yesterday for the first time since the Queen Mums funeral and is hurting.
On a happier hopeful note, here's to us all and to all the adventures that lie ahead in the coming year
With much love
Queen Marie
xxx