We Queens have many duties.
To inform.
To amuse.
To console...
If your Christmas was less than merry, if Santa seems to have got you mixed up with someone else, you have come to the right place. No matter how bad your gifts were, you can be sure of one thing.
Mine were
worse.
They always are!  Long time friends of the Kingdom will remember wonky magazine racks, carpet sweepers, pensioner pj's.  Classics every one!
But this year, I may have hit a new height or plumbed a new low...
The Queen Mother and King, paid for a plumber to fix my bathroom tap a few weeks ago.  That may seem like a bad present, but it was actually what I asked for, as it was driving me insane. But my mum insisted I have a couple of 'openers' for the day. As I opened the parcel on Christmas day, I thought, 'hmm this feels like toilet roll'  Hmm that's because it was.  4 rolls of toilet paper.  But of course, no ordinary toilet paper, it is fragranced. Oh joy.  
Just when I thought things couldn't get better they did.
Parcel 2 - biscuits!  A box of biscuits...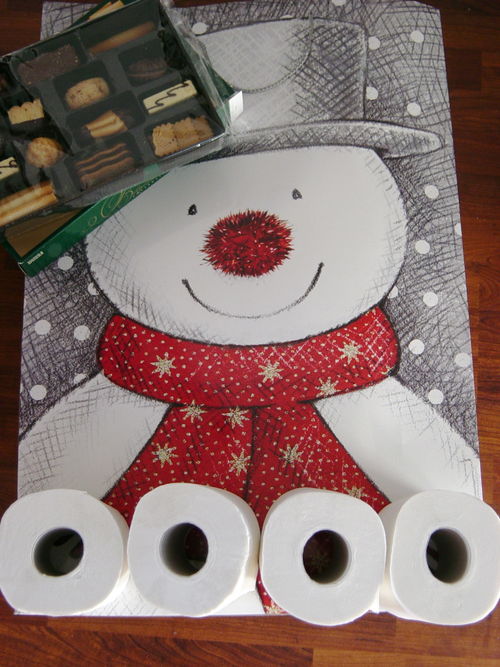 Now truth to tell, the biscuits are pretty damm tasty.
Almost as tasty as the next gift...
Yesterday before he handed it over my brother warned me it was a 'monster'  He told me the psychosisterinlawfromhell had bought me a
'handbag that SueEllen from Dallas would have rejected for
being too flashy'
 He advised me to follow his lead and say, it was
'striking'
Striking? that is one word for it.  Huge, heavy,hideous lump of plastic that's some more words for it...
Just in case, I didn't know what the monster was, it was labeled -
'HAND BAG'
Mmm smell the plastic people...
Queen Michelle will laugh until she is sick.
Now if you too are suffering from 'bad giftage' and don't know what to do, worry not.
I shall give you an answer on the Sabbath Day.
I promise, it will be an answer to your prayers...
Queen Marie
x