I have made a brief escape from the madness at my mothers to put up a post.
For the last few months, my neice, Princess Laura has been telling anyone who will listen, that she had asked Santa for a dolly that 'peed and pooh'd'. Everytime she told me, I would make a face and she would reassure me, it was only 'pretend pee pee and pretend green pooh'  Oh splendid.  Apparently this dolly from the dirty side of the tracks, don't come cheap.   Nearly £100 according to my brother.
Well Santa did as he was asked, and the crapping dolly turned up under the tree yesterday and is being paraded before us all today at my mothers.
It is the ugliest doll, you have ever seen.
It does not look like a baby.
It looks like an overmade up old slapper.
In fact, I started giggling and said to my mum, that it was a dead ringer for Rose in The Golden Girls
Rose  
(furtherest away on the right)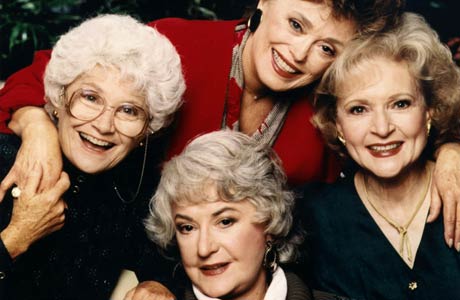 And as for the pooh. It is kyrptonite green.  I do not know the process or mechanism involved and frankly am afraid to ask
.
WARNING* WARNING* WARNING
DO NOT LOOK AT THE PICTURE BELOW IF YOU ARE SQUEAMISH OR ABOUT TO EAT!!!
Princess Jenny has a new dolly, that is a much more modest affair and exactly as a doll should be. Soft, squishy with a sweet little baby face...
Aww bless!
Now if you will excuse me, I have to return to the Christmas carnage...
Queen Marie