Gucci isn't exactly a label I pay much attention to. I occasionally like their shoes, never their bags and only the odd item of clothing here and there, but when I saw the tiered purple dress in the Spring 2007 show, I haven't been able to stop staring at it since.
Perhaps it evokes memories of my most favourite skirt when I was little - my ra-ra skirt. It had tiers of different colours - one pink, one blue, one yellow and one green. I loved it so much I just wanted to wear it all the time.
My white kitten heeled jelly shoes and white tea bag t-shirt complimented my skirt perfectly (I had a white woven jelly bag too for special occasions - please bare in mind my obsession with the sweat inducing plastic was possibly due to the fact I was only about 7 when the trend hit first time around, about 1980, and it probably felt like wearing toys!). Whatever the reason, I' cannot deny I'm drawn to tiered items, particularly dresses, I just haven't quite gotten round to buying one yet.
Spring 2007 also saw the most marvelous tiered creations from Marc Jacobs, which I also keep ogling whenever I feel I need for some tier action. His were reminiscent of 1930's flapper dresses, another weakness of mine. I loved that his take on the style was slighty off kilter - a bit dishevelled and grungey.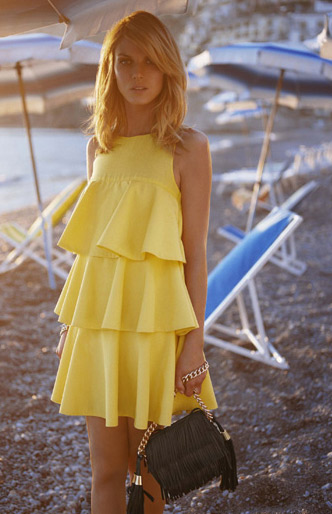 So Imagine my surprise when I took a gander to Zara this lunch time and saw the most lovely yellow tiered dress very similar to the Gucci one.
In this picture it looks too pastel-y and pretty - it's actually a more vibrant yellow in real life - and when I held it against me it really popped because I am wearing my electric blue tights and red ankle boots today! This gaudy combination took away any notion of whimsical romanticism and replaced it with childish co-ordinating, just like my beloved ra-ra skirt!
I haven't bought it yet, as I have already spent my weekly clothes budget, but I'm sorely tempted as there were only two left...
Oh what to do?!
Queen Michelle
Images style.com / zara.com