At last, Jalouse finally popped through my letterbox yesterday. After a day which saw my downstairs neighbour in our building nearly blowing us all to smithereens by leaving her gas on all day long, which, after 9 hours, had now leaked into the whole block; a day still filled with this nasty viral thing which has me up all night long coughing until my stomach muscles ache - I came home to this, one of my most favourite magazines, and was instantly cheered up.
No I don't read French and yes, I do just look at pretty pictures and whilst I can get the general gist of what the articles are about (2nd year French suddenly kicks in when it comes to matters of fashion, and all of a sudden I realise I had actually listened to Thierry the French exchange student after all!), the photospreads themselves are always more than enough too keep me happy. I even found the spreads with the normally dull, off-my-radar-couldn't-give-a-hoot-about Kate Bosworth beautiful.
I found myself inspired by so many images in this issue. I had been thinking to myself how the Givenchy SS07 collection has been secretly influencing me without me realising, (which took me by surprise as I never pay attention to this house), only to open the pages and see fabulously fetish-y Givenchy dresses, cuffs and necklaces, and dresses by Balmain and Malo (like this black one) that had a distinct Givenchy feel to them too!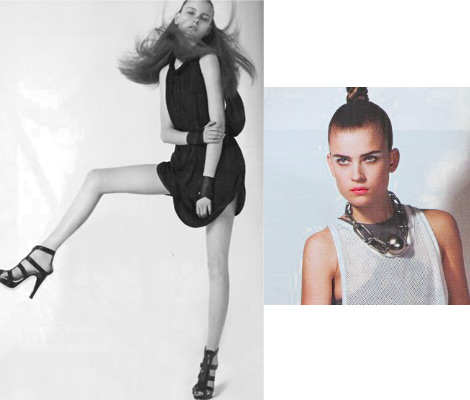 I am so madly in love with that huge ball and chain necklace by Veronique Leroy. I'm really after some over-the-top statement jewellery just now. Look at that magnificent cuff below by Pianegonda too. I'd never take that off!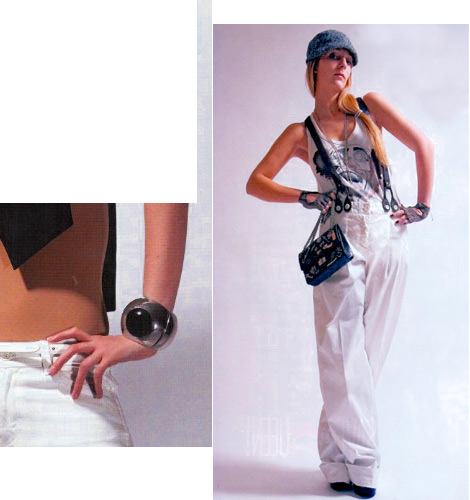 I am also loving the cute way this girl is dressed, so much so it inspired me to don my own 'hammer pants' as my Prince calls them, braces and layers of sheers vests. On a side note, my trousers are not going down well at all with the general public, due to their slightly unusual shape, and I mean slightly. People are staring and not in a good way. But, never mind, I feel inspired and I don't care what the boring bootcut and cowboy boot brigade think of my trousers!
In the words of the famous Del Boy - mangetout Jalouse, mangetout.

Queen Michelle