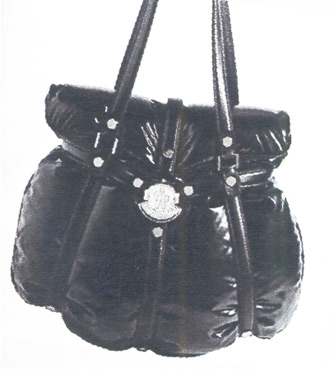 Moncler, the makers of deliciously luxurious quilted nylon coats, are planning to branch out into the handbag market with the creation of their 'Duvet' bag. How wonderful! I love the sound of this, and judging by the crappy wee photo from Grazia, it's looks pretty interesting too. It's a little like a quilted nylon version of the Kansas Tote by Lanvin.
Here's what their website says about the upcoming bags"
Coussin Poche is based on a down-padded nylon cushion, harnessed in a system of leather straps with clasp. In three sizes, the bag is a master of transformation, the nylon sac replaceable at will with other colors and materials.

Duvet is tube-shaped with a stylish, French air about it. In padded leather with pockets, side zips, chain clasps and handles, and gold-tone trim. Moncler makes the bag in three sizes, from the almost-pochette petite to medium and large.
Loving the sound of this!
Queen Michelle