I am nothing if not a hard working, dedicated Queen and even when sent home yesterday with this ghastly ailment I still had LOTS of work to do (in fact, I ended up working late - isn't that always the way!), and of course try and give our loyal subjects a post to read last night, even if it was only one - so I apologise for the lack but will try harder today...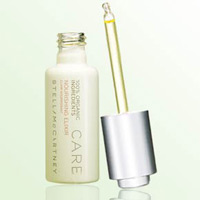 I recently wrote about ethical fashion productivity and how the industry is contributing in a major way, to the damage done to our planet.
Well it seems Stella McCartney is taking on the beauty industry now too. She already omits the use of animal products in her fashion collections and her new beauty range, called Care, has been created minus the use of damaging silicones and petrochemicals. Her range contains only 100% organic active ingredients.
Whatever you think of Stella as a designer, there is no denying she has staunch principles which I hugely admire, and she sticks to them religiously.
As a beauty addict I'm quite excited by this as the prices are surprisingly reasonable, well certainly not any more expensive than, say, Chanel. For example, $35 for cleanser and $76 for a moisturiser (with 5 benefits no less!) - that's reasonable, no? Price point is exceptionally important when it comes to enticing people to change allegiance from their usual brands, as cold as that sounds and she could have charged more, but has chosen the right price point - what I'd consider, upper-mid.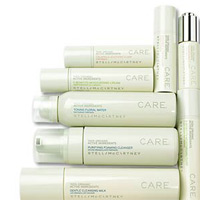 I would much prefer to use organic products if they produce the same luxurious feeling as achieved from other skincare brands, which so far I haven't found.
The products claim that the organic ingredients with their essential nutrients are in greater amounts than what you'll find in conventional skincare offerings - vitamins, antioxidants and essential organic elements such as amino acids and fatty acids, which help maintain the skin's vital functions.
This is what Stella herself had to say about her line:
"My skin is important to me. It's one of the first things people notice about you. But for many years now, I have found myself dissatisfied with what is available in the world of skincare. Just because I don't want to put something unnatural on my face, doesn't mean I should have to make sacrifices. I ask the same things as you do from my skincare; I want it to help me feel and look younger, more radiant. I also expect it to feel rich and luxurious and to sit proudly on my bathroom shelf. It needs to fit into my lifestyle in an uncomplicated way. Why shouldn't it be possible to adopt a more natural, organic lifestyle without foregoing luxury?"
Queen Michelle