OK, ok, I realise I mention Facehunter's site every once in a while when I see a shot that inspires me, and here I am doing it again. BUT I just had to speak about two images I noticed as I checked today.
Leggings/trousers of leather, rubber or PVC have been on the pages of every magazine, proclaiming it's the new 'futurism'. I used to wear said items when I had a brief flirtation with being a goth. I truly wanted to be Patricia Morrison when she was in Sisters Of Mercy, with all that flowing black hair and eye liner.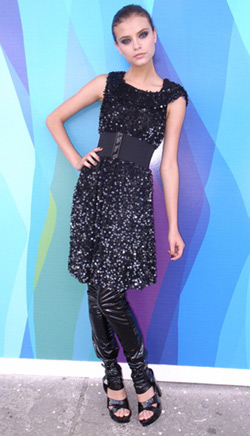 I also remember the vast amounts of talcum powder required to squeeze oneself into rubber leggings, and finding out to my pearl that rubber, talcum powder and sweating does not a pleasant combination make. I even wore PVC hot-pants with thick woolly tights and combat boots.
God lord. I've done it all and I have bad memories of how ridiculous I must have looked.
But when I saw the image of this girl in her gorgeous sequined dress with PVC trousers, I thought she looked stunning. I haven't seen the PVC/leather/rubber trouser look achieved very successfully, even in the magazines, but this girl, in my opinion has it bang on. It helps of course that's she's exceptionally beautiful and slender, but the whole combination manages to look chic not cheap.
I think her demure hair, knee length dress and the overall simplicity of colour and shape is what makes this look great. I also like the way she's added a bit of quirk by wrapping the straps of her shoes over her trousers.
Even though I won't be running out to buy PVC trousers anytime soon, it's great to see how other people can successfully pull off a look that I myself definitely could not.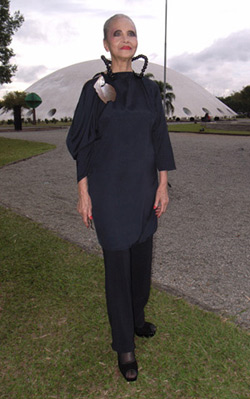 The second image I've stolen from Facehunter is that of this wonderful elderly lady. How wonderful does she look?
Queen Marie and I have occasionally discussed how we will look and dress when we are old, and I always feared I'd end up looking like Dot Cotton from Eastenders.


Lucky enough to be slim now, but my cheek bones will haunt me later in life when I end up looking like I've had all the air sucked out of me.
But if I was drawing my pension looking like this old lady I'd be most pleased, She has a slight severity to her that commands respect, and whilst she's dressed chicly in all black, she has that added twist with the addition of a fabulous neckpiece. I'd omit the scary makeup right enough.
Queen Michelle