OK, that's a lame title to this post, but it loosely refers to the kind of titles one of my most inspirational designers likes to give his collections > Mytholactica, Testamental, Shakespearotica, Subtyrannical. I'm talking about the genius (in my humble opinion) that is Jean Pierre Braganza, a London born designer.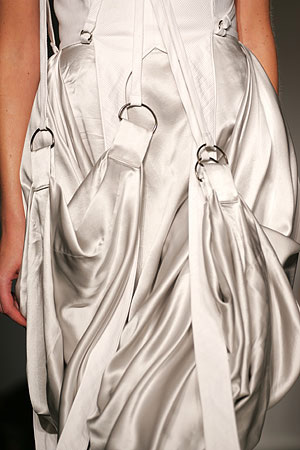 Do you ever get designers that you realise you probably won't ever own but they inspire you in many ways? Well Braganza is that to me. I've mentioned my obsession for added 'bits' on clothes, like harnesses and hardware and all sorts, well it's partly because of him. He is a great advocate of the origami fold, the drape and all manner of non-cloth items added onto his garments, for example his use of D rings to hoist up parts of dresses and skirts to create volume, intricate folds and draping - I love the juxtaposition (sorry, I generally try to avoid analysing and using arsy words like that) of luxurious fabric with a hard edge. It's futuristic and romantic at the same time.
I shall not attempt to go any further into trying to fathom the subtexts in his work, I think it's enough just to say how much I love it.
He is one of those rare talents where I actually find the menswear equally enticing and would happily wear it.
Not to mention the fact he actually uses leather in such a way that it ceases to look tacky (which it generally does in my opinion). I think this is because he treats it like any other fabric and makes it work for him, he tells it what to do, whereas sometimes leather can dictate the flow of a garment and the 'leatherness' obscures the garment itself. OK, I realise that only made sense to me, and I also made up a random word - leatherness - which my spell checker has angrily underlined in red, in fact it's literally flashing!
Anyhoo, let me show you some nice pictures.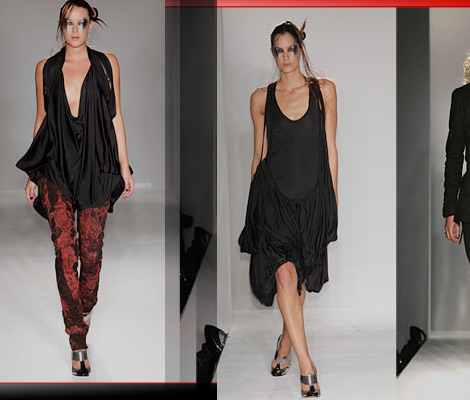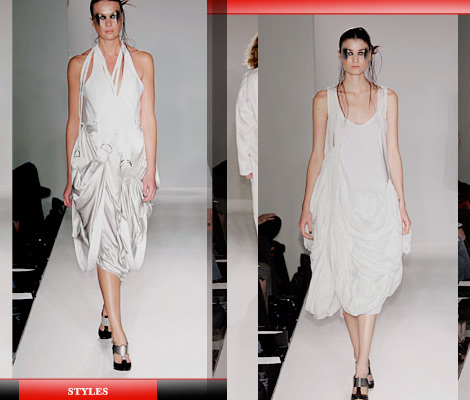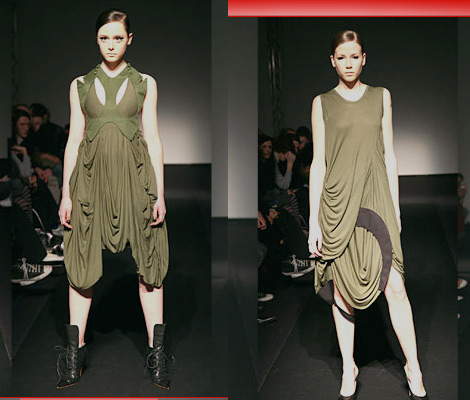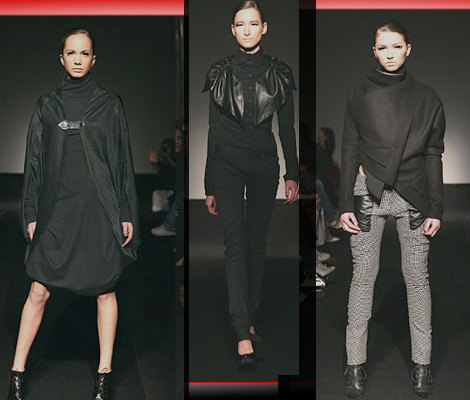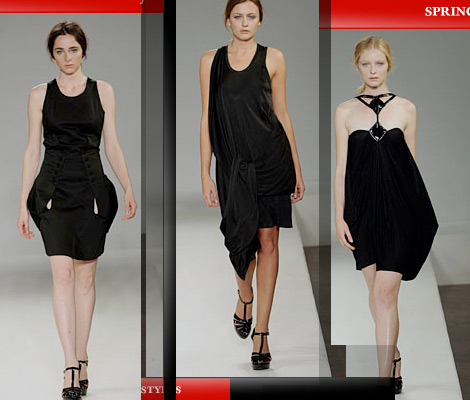 A lot of his stuff is what Sass & Bide would love to be, see the khaki dresses? He gets it right where S&B fail (not all the time admittedly, I don't want to do them a disservice). And one of the great things he does is to, up until his last collection, use his friends as models which gave the clothes real personality and you got a great sense of how they translate on 'real' people, which can be hard with clothes that play with unusual shapes - after all what looks great on a 6ft skinny model isn't necessarily going to look great on a normal sized chick, as I'm sure we've all experienced!

There you go folks, Jean Pierre Braganza.
Queen Michelle