I must have some sub-conscience need to collect which is strangely at odds with my need to throw everything out. I can fully see me being one of those old ladies who has piles and piles of newspapers throughout her entire house, all the way up the stairs and in every cupboard, except instead of papers I'll have jazz shoes. I keep buying jazz shoes. I don't even like jazz yet here I am with yet another two pairs I bought today.
The only way I can see to justify having all these jazz shoes is to start jazz dancing lessons. Oh god.
So today I bought another pair of the silver ones and as I had them in my grubby little paws I saw these :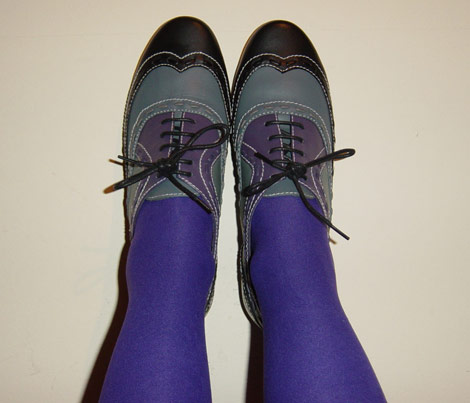 A heady mix of black, purple and a kind of grey/green with contrasting stitching. It would have been rude not to buy them really. They have a vaguely 30's, Bugsy Malone gangster kind of feel. I shall wear them with the obligatory coloured tights (obviously) or baggy trousers, braces and a white shirt...with a tommy gun.
Queen Michelle