The other day your other monarch was getting herself into a fankle because her co-worker, Mixmaster Andy, was telling her all sorts of things about global warming and how the world is going to be f**ked in 10 years. Suffice to say she took to her bed when she got back to the palace, depressed after that cheery conversation. But the simple truth his, he's kinda right. Perhaps it's not quite as dramatic as he predicts, but if we carry on the way we are then yes, we are screwed. Maybe not our generation, but certainly that of our children's children.
I was actually surprised to read in an article that the fashion industry is to blame for many of the environmental damage being done to our planet. For example, and I suppose it makes sense when you actually think about it, the pesticides used to actually produce fabric make up a whopping 1/4 of those used worldwide! Think of all the industries using pesticides in their product creation, yet the fashion industry takes up 1/4 of them. I had no idea.
I've had many a discussion about the merits of buying high-end bags versus cheap bags, that my Balenciaga isn't made by poor Chinese children working 20 hours a day for a few pence to keep starvation from the door, but it has made me wonder - OK, my bag may be put to together in Italy thus eliminating the sweatshop, but the leather and leather dyes and dying process still contributes to the overall damage done to the environment. But, and this is going to sound callous, fashion is a huge part of my life and who I am, and so far ecological alternatives have not been that attractive. I don't want to spend my days carrying a recycled bag and wearing Terra Plana shoes (I'm sorry, but they are FUGLY), so other than Stella McCartney, what choices do we have? I'd much rather there was an alternative source of ethically made leather, fabrics and dyes that ALL designers would use.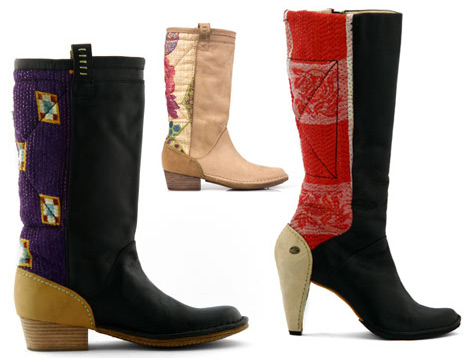 Terra Plana
I am intrugued by the idea of From Somewhere, who rather than just use ethically produced fabrics, they use cut offs, end-of-runs and damaged fabrics, essentially they use the waste products of other manufacturers. What this means is that they can get their hands on expensive silks, cashmere and tweeds that would otherwise go in the bin, because often it only amounts to a few metres left. So what you end up with is high end fabric at much cheaper prices.
From Somwhere

The downside for me personally, is that I wouldn't wear any of it because it isn't my style at all. Of course we could all say to ourselves that fashion is frivolous and meaningless anyway, so we should just grow dreadlocks and live in hemp jumpers, but to me, we shouldn't need to make a trade off - to choose being stylish or ethically sound - I want both.
Queen Michelle