Scotland has a lot of unsung creative fashion talent coming out of learning centres like the Glasgow School Of Art. Unfortunately being based in Scotland generally meant they was little chance of receiving international recognition, and most were forced to make the move southwards. However, slowly, things are changing and Scotland is catching up with London, recognising the need to nurture, and more importantly keep, it's young talented individuals. Companies such as Nesta's Creative Pioneer Programme are giving grants to get them started, realising the value of keeping Scottish talent based in Scotland, as well as giving them the means to show their work in places like London.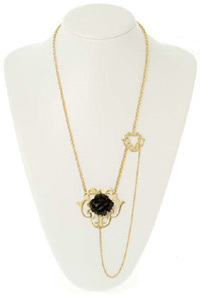 Jewellery designer Sarah Raffel set up her jewellery studio, Brazen in 2004 with a grant from Nesta and hasn't looked backed since. But Brazen is not purely for the purpose of showing her own work, she went a stage further and set up the studio to also give other designers a valuable chance to showcase their work too. The designers can hire workshop space and share expensive equipment, to which they might not otherwise have access and the 'exhibition' displays their work.
Brazen is currently selling work by such Scottish talent as: Alison Macleod, Natalie Ryde, Jemma Sharp, Georgia Wiseman, Gillian Munro, Catherine Stafford, Rona McKee, Aileen Tan, Hannah Louise Lamb, Rona McKee, Donna Barry, Leigh Mulrine, Suilven Plazalska, Caroline Cloughley and Helen Wilson as well as selling her own line called Magpie.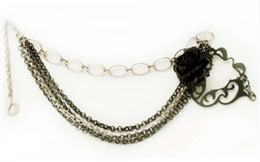 Magpie was launched at London fashion week in 2006 and rightly received critical acclaim. The collection is darkly romantic and eclectic and uses materials such silver, ribbon and onyx. These are stand out pieces, bold, contemporary and exceptionally pretty!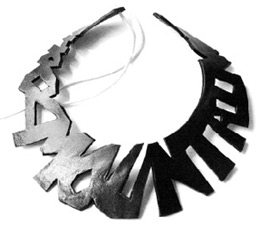 I'm also loving this black neckpiece by Victoria Hayward - it's black, it's edgy, it's a little bit scary and it's only £50. I can envisage this with so many things, especially a dress I just brought from Topshop Unique which I've been waiting on and will be showing you and excitedly babbling about this week!
Brazen Studios is based at 58 Albion Street, Merchant City, Glasgow. Tel: 0141 552 4551.
Opening hours are Tuesday to Saturday 10.30am to 5.30 pm (open until 7pm Thursdays) and by appointment only on Mondays.
Magpie is also available at Brittique.
Queen Michelle