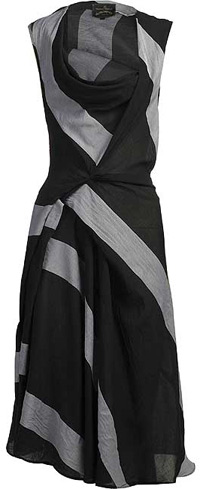 One for your other Queen here. The rather curiously named Apron Fish Dress by Westwood's Anglomania label. Doesn't this fulfill all requirements? Large stripes? Check. Vivienne Westwood? Check. Reasonable price? Check!
It's only £185 from Net-a-Porter which is outstanding value in my opinion, and think of all the wonderful colours you could wear underneath this dress!
Don't look at it on the mannequin though because it does this dress no favours at all, but in real life I bet it sits beautifully.
Nice.
Queen Michelle