I'm not a one for exhibitions. Having been singled out as an 'artistic' child, I spend many a long hour being dragged to galleries and exhibitions and have come to quite dislike them. I'm really rather unable to quietly ponder and chinstroke my way to a conclusion as to what a particular artist meant/felt/tried to say when he\she created a specific piece. Though mostly it's because I'm aware of the amount of post rationalisation that artists do in order to make their art more significant to those coughing up the dosh and the wee red dots.
Fashion exhibitions though, are another matter entirely. I could spend hours staring at creatively made clothes, trying to work how they were made, what the fabrics are, and generally being awestruck by the skill involved in turning fabric into 3 dimensional works of art. Which is why I'm deeply envious of those who can make it to the Antwerp 6+ exhibition which tells of the story of the rise of, but not limited to, the 'Antwerp 6' - Dirk Van Saene, Dries Van Noten, Ann Demeulemeester, Walter Van Beirendonck, Dirk Bikkembergs and Marina Yee.
It will also explore the work of the the fashion department of the Royal Academy for Fine Art in Antwerp giving us a glimpse into the next generation of Antwerp designers.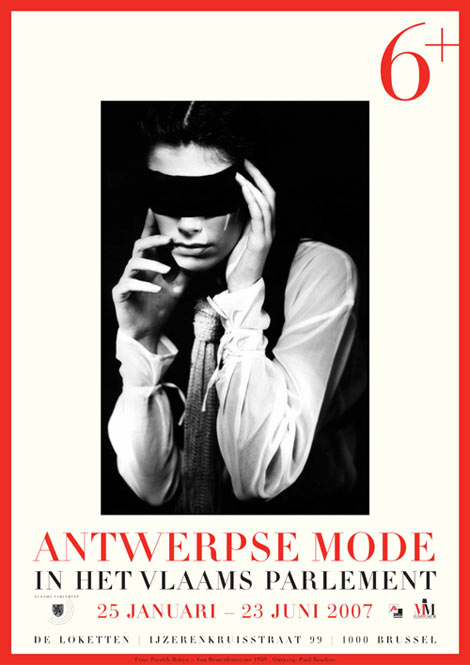 If you are lucky enough to go, you'll be treated to Dirk of Van Saene's winter collection 2006-2007 'Fashion-Sampling', which opens the exhibition, and also designers like Martin Margeila, Veronique Branquinho, Comme of the Garçons and Bruno Pieters amongst others.
The exhibition is in 4 chapters, but because I've attempted to translate the info from Flemish I'm afraid all the details are a bit sketchy!
The exhibition runs from Thursday 25 January 2007, so get yer fashionable butt there and soak up some culture!
Queen Michelle