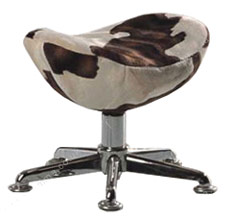 Surely not, I hear you cry.
Au Contraire my stylish chums.
Come sit on my doughnut!
It can be yours for only £69.99. It is half price in the sale at egamma , which is one of my favourite web sites for chairs.
It is by far the most comprehensive resource I have come across, and you know how much I like chairs.
And in answer to the unspoken question which is hanging in the air- I don't know when this freakin cowprint fixation is going to end...
Queen Moo x