thanks to the blessed wonder of the interweb.
Over the last couple of years, more and more of my browsing and purchasing is done online.
Not only can you see all the colours and all the styles, you have no snotty sales assistant breathing all over you and when the online stores are as current and cutting edge as Browns Focus, Net-a-porter and now Brittque.com you would need to question your own rationale for doing things the hard way ie actually hightailing it to the high street.
Now sales are strange things. Some people live for them while other (including Queen Michelle) hate them with a passion. According to her, the shops are filled with junk and you can't get near anything because of the hordes of halfwits trying to score a bargain.
As usual I occupy the third camp! Sales are fun if you have identified clearly what you want before the sale starts and when it does you are ready to play the game of nerves and timing, striking when you think the price has bottomed out and before they all go.
As I have doubtless mentioned before, you will be inudated at this time of year of what classic items to buy in the sale - SOD THAT, i say.
Sales are most fun when you can suddenly afford something wonderful that would otherwise have been out of your reach. I am a big believer in following your intuition when it kicks in. Although impulse buys can be riddled with difficulties if you stick to jewelery, belts, bags, sunglasses, scarves etc and steer clear of clothing you should be just fine, in fact you will be wonderful!
My most favourite place on the web, where I have spent countless hours pottering about, oohing and aaahing and purchasing some of my most treasured trinkets is efashionhouse.com .
I have shopping there for years. It is huge, filled with things from the ridiculous to the sublime. Tat and Treasure exist side by side. It would give Queen Michelle a turn because to get the best out of this site, you have to be prepared to rummage.
I do and look at the treasures I have uncovered this time.
This glorious chanel silver flower bracelet which retails at over $900 can be yours for only about £150.
Yum Yum Yum, you would have this forever. Oh get behind me Satan...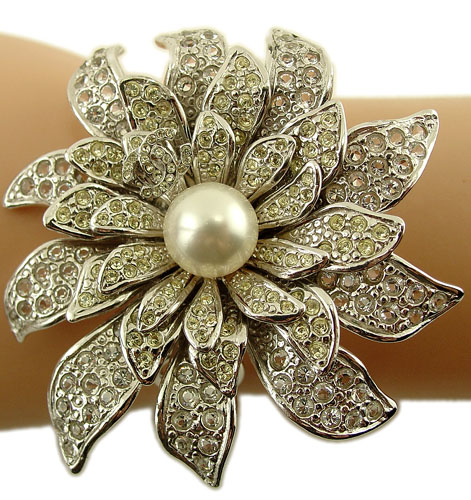 Even more affordable and even more appealing in an esoteric leftfield way are these wonderful wonderful clothes pins by one of my favourites, Martin Margiela.
He makes things that you didn't even know you wanted until you see them, a rare gift indeed.
I have looked at these on and off for over a year and to be quite honest they are now so cheap I have no excuse not to buy them.
In fact I shall buy them this very day.
The perfect situation - I get something lovely and it doesn't cost too much lolly.
Oh I am such a thrifty Queen...

Queen Marie x