When it comes to fashion I go through phases. Much like playing a character, sometimes I dress a certain way for a while then I change it and dress another way for another while. Lately I've been all about the smock, baby doll and swing dress. It's grey and pared down and minimal. But I feel a shift happening. Today I am wearing a printed silk dress over a long vintage red and black slip with turquoise tights and grey shoes with lots and lots of big beaded necklaces. My hair is poker straight and I have the slightest parting in my usually heavy fringe...I look all hippy. And I feel I'm entering (or at least flirting with) another phase consisting of autumnal graphic prints on empire line dresses with balloon sleeves.
I'm regressing one could say as this was what I used to wear during a portion of my teenage years (post punk), when I used to go to Glastonbury Festival every year (when it was good) along with wearing bloomers and Victorian corsets as outerwear and listen to The Levellers. And I'm feeling it all over again.
I'm very inspired by the FW06 Missoni collection with it's bold graphic prints, which has thankfully made the look a lot less 'boho' (scary visions of Sienna Millar in cowboy boots spring to mind).
This may be a flirtation rather than a full on phase but there's something very spirited about floaty dresses in prints that makes you feel all winsome and young.
The good thing about the new season prints is that they are modern and bold and in subtle colours, so you can keep wearing your grey ribbed tights, plus you won't look like you shop in Laura Ashley which is always a good thing.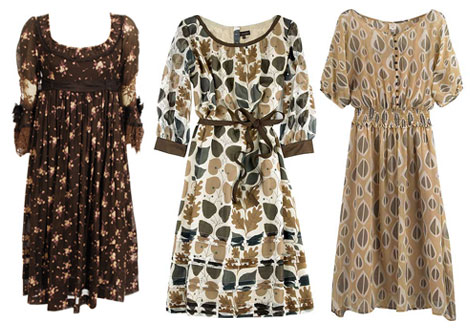 Easton Pearson; Mulberry; Lauren Moffat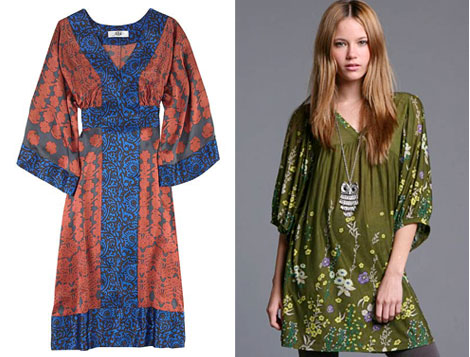 In order not look too hippy I'll make sure I always carry a great bag and keep my coats relatively short (a long coat would look way to retro for me). I may even mix it up by wearing my civil war style jacket.
The autumnal colours will make sure it's not too summery, afterall the Kingdom is getting severe weather warnings so I won't be in a field making daisy chains any time soon...
Queen Michelle