I love how trends are filtered down from designer to high street in the blink of an eye like the Maxmara dress of the season which has had been emulated to great effect:
French Connection did it...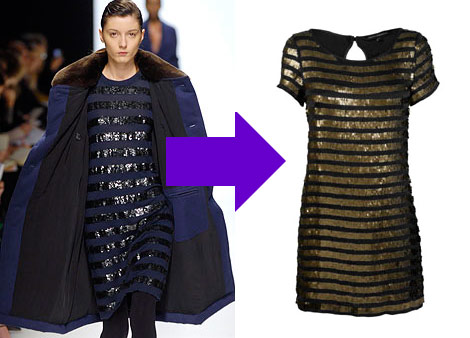 Topshop are doing it to...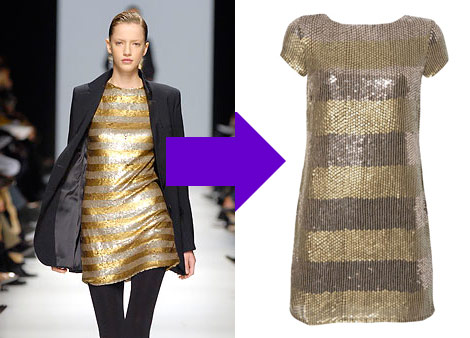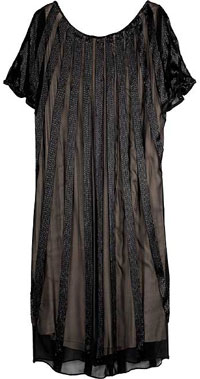 I actually really love the French Connection one and it was even on my awards dress list at one point but I felt it would be too popular therefore I risked someone else wearing it too. I reckon if stripy sequins are you thing then the Phillip Lim black version with vertical stripes is awesome.
Come the party season everyone loves a bit of bling, but I must confess sequins aren't really my thing. It's not that I don't like them because god knows everytime I see a sequined item I can't help but pick it up, it's more that I can't quite find the bottle to wear full on sparkle and really, if you're going to do then really do it.
Queen Marie has no such qualms, she would happily wear sequins all day long and has so many in her wardrobe that I once wanted a sequined boob tube for a 70's Pimps and Ho's party we were going to and after a quick rummage she actually had one...from the 70's I think!
I bought Queen Marie the ultimate in sparkle a few birthdays ago - a fully sequined Dries Van Noten jacket. It was quite possibly the most stunning thing I had ever seen. It was matte sequins with the odd shiny one dotted here and there and was just spectacular. I am in awe at the workmanship that goes into such a garment.
I do lust after a silver sequined loose, short warp cardigan/jacket thing I see in Zara all the time and I imagine it with grey skinny jeans and some great heels. I actually know I could probably look quite good it in but I just couldn't ever bring myself to buy it for fear of blinding unsuspecting passers-by.
If you really don't have the guts to go full throttle bling then a pretty top with added sequin embellishment is the way forward like these from Topshop and because it's only happening on the top half then you won't feel so full on >>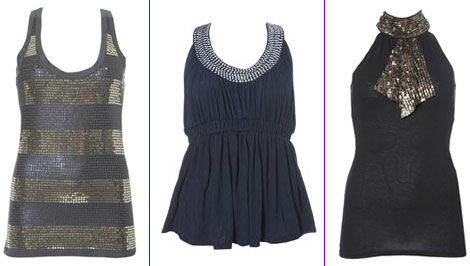 Sequins do look amazing when layered with knitwear and lend themselves to mixing with fabrics like tweed, flannel and wool.
If you have no fear of the dazzle then this dress by Foley is just beautiful and the little embelleshed vest by Sonia Rykiel adds the right amount of sparkle without being overwhelming >>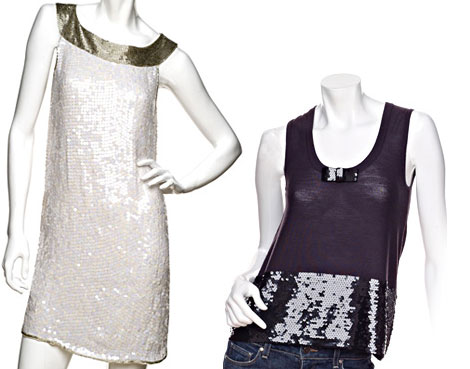 I personally can't see me whipping out the sparkle for any parties but none the less it won't stop me from pawing at them everytime I see them in a shop...
Queen Michelle