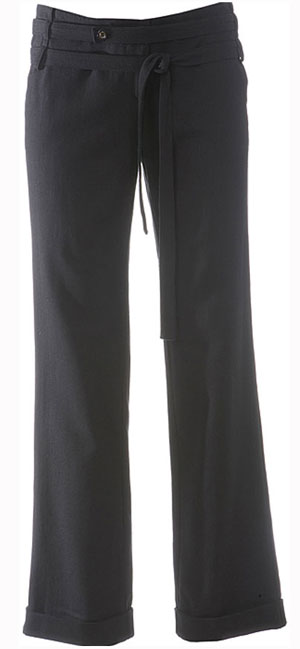 Oh yes indeed. Only a few posts ago I was talking about baggy trousers and how I think they are perhaps a more grown-up version of the boyfriend jeans, and I also mentioned I went to Topshop that very afternoon and purchased a pair. >>
Of course I was then left with the small issue of what to wear with said trousers. I tried my Adidas and my Converse but it didn't look quite as good as I had imagined therefore it was back to the proverbial drawing board.
I also discovered that the top half would have to be seriously considered too. I didn't want these trousers to look too grown up so a blouse of any description was out of the question. None of my t-shirts hit the spot either.
Basically I had a pair of trousers with nothing to match. How boring.
Then I had an epiphany. Deep in the depths of my closet lurked a pair of Prada boots I'd had for years but could never find anything to go with. The boots had almost been sent to death row (read: charity shop) on many occasions only to get a last minute reprieve everytime, only for me to find them again 6 months later and say "ooh I'd forgotten about these, these look great" and then remember why they're at the back of the closet. Because they don't go with anything.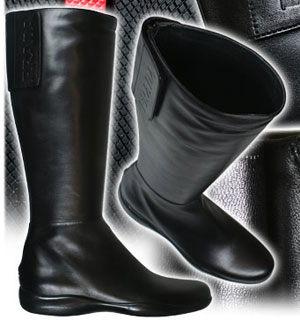 The problem is the height. They are like these ones from Raffaello Network only shorter which means they make your legs look dumpy if worn with skirts but are too short to wear over jeans (plus they make one look like a Nazi skinhead when worn over jeans - never a good look). But just last night it literally came to me in my sleep. The trousers! Wear them with the trousers! So up I got and pulled stuff out of the closet until I came across the dusty box and there they were. A quick try on revealed the perfect marriage between trouser and boot.
This point actually proves that Queen Marie was sort of right - (almost) everything will have it's day. Now whilst I still believe that stuff should have a wear-by date, perhaps it's wise to hang onto the high end stuff. Because obviously if something made you part with several hundreds of pounds on that particular day you must have saw some potential in the item in question, therefore maybe it's day will indeed come.
Of course I still need some kind of top half and I think this slogan vest by Anne Demeulemeester will be perfect.
And as a wee side note I also love this Malo dress. Incase you're compiling a christmas gift list for the Kingdom.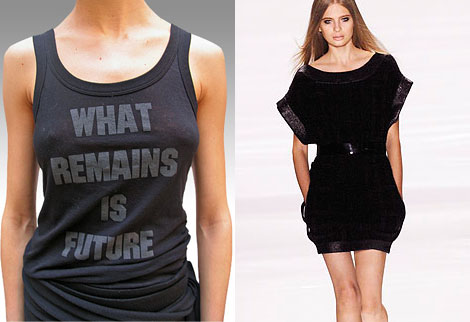 Queen Michelle