Oh what an amazing thing this information highway, my mother calls the "interweb" truly is!
Gradually you travel further and further until you feel quite at home, thousands of virtual miles away from home and slowly people from the ether cross over into your every day 'real' life.
This came up when last night, I was explaining to Queen Michelle that I was quite vexed because I had been trying to post to Winona, Lady of the distant Lands of Likey and had only suceeded in getting myself into a fankle.
I kept thinking about her sweet little jacket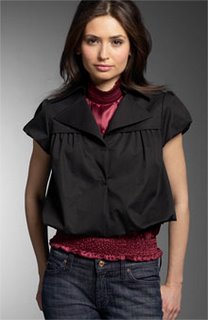 Lady Likey please note that A Royal Decree has been issued instructing you to buy it immediately.
Happiness and joy are not prizes easily won and if they can be your for the paltry sum of $28, then the jacket must be yours.
It matters not a jot if you ever wear it! Some of my most treasured things lead perfectly fulfilling lives on hangers just being gazed at.
So on this thanksgiving holiday treat yourself, or we shall be forced to send over the Garment Guards to escort you to Nordstrom.
The shopping fairy will watch over it until you get there...
Hurry Winona, Hurry...
Queen Marie