Oh happy days! Topshop have finally got it together to get a new site, and boy did they! It's a positive feast for the eyes! It's easy to navigate, full to the brim with lovely stuff and is much easier to order from. So kids, if you want to know where the extra money they are charging for clothes goes, then look no further, coz this baby would have come with a hefty price tag.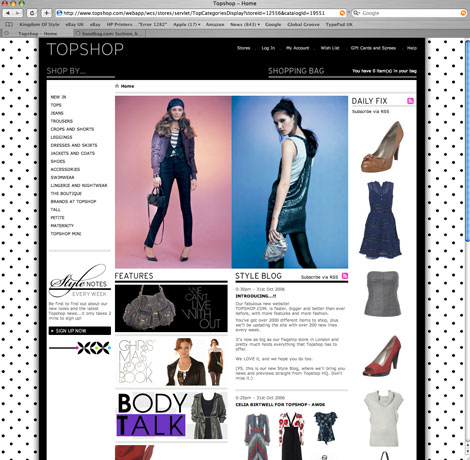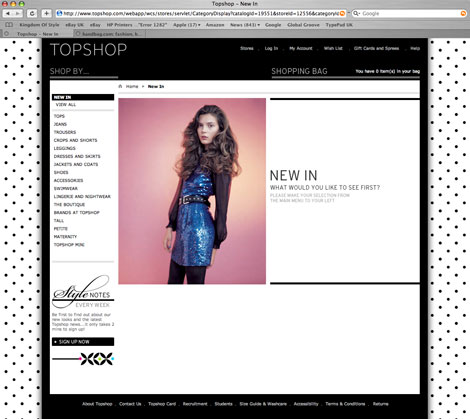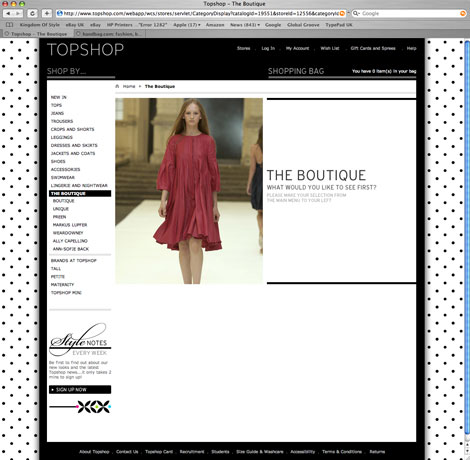 It's much faster because the last one was a Flash based site which would have meant those with slow network connections would have had to wait ages for it to load, but that's been resolved now. It's also seems much, much bigger in terms of the amount of stock it holds, which is a bonus as we don't all live near a flagship store.
Overall it's a vast improvement and one of the best things, although it seems small, is that it launches a new pop-up when you click on an item to see it larger, and that pop up means you get a decent sized image. Also, the ordering process is much better. I could never order from it before for 2 reasons; the address field wouldn't accept a forward slash as a character (which is necessary for my address) and it didn't accept Switch cards without issue numbers, which mine didn't have, but I ordered from it last night and both these issues had been resolved. Perhaps in some small part due to a very ranty email I sent about 4 months ago pointing out all the errors on their cart facilities! Not only that but it also has a blog too!
Whilst alot of people have been disappointed by the price increases, I won't complain because where else can you get affordable Preen? To me that alone makes it worth it. So get perusing!
Queen Michelle