The Marni Winter Edition for 2013 dropped into The Kingdom inbox earlier this week.
It's a mix up of masculine and feminine where the essentials in the collection look like they have been subtracted from a man's wardrobe - "clothing suited for the needs and speed of the concrete jungle. A military attitude filtered through a feminine sensibility"
Of course girls dressing like boys is nothing new. Historically it was normally for practical reasons, think of women in the factories and fields during the first and second world wars.
But it took Hollywood to make it glamorous and aspirational!
The wonderful Katharine Hepburn,  pictured below in a 1938 LIFE photo shoot by Alfred Eisenstaed, was famous for adopting menswear style.  Known for her athleticism, Hepburn was an avid tennis player, swimmer, and golfer, and wearing trousers made of all that so much easier.
More radical and outre was Marlene Dietrich who balanced the masculine tailoring with highly stylized, feminine makeup, appealing to men and women alike.She often wore pants and full men's style suits in direct defiance of the Paramount Studio executives.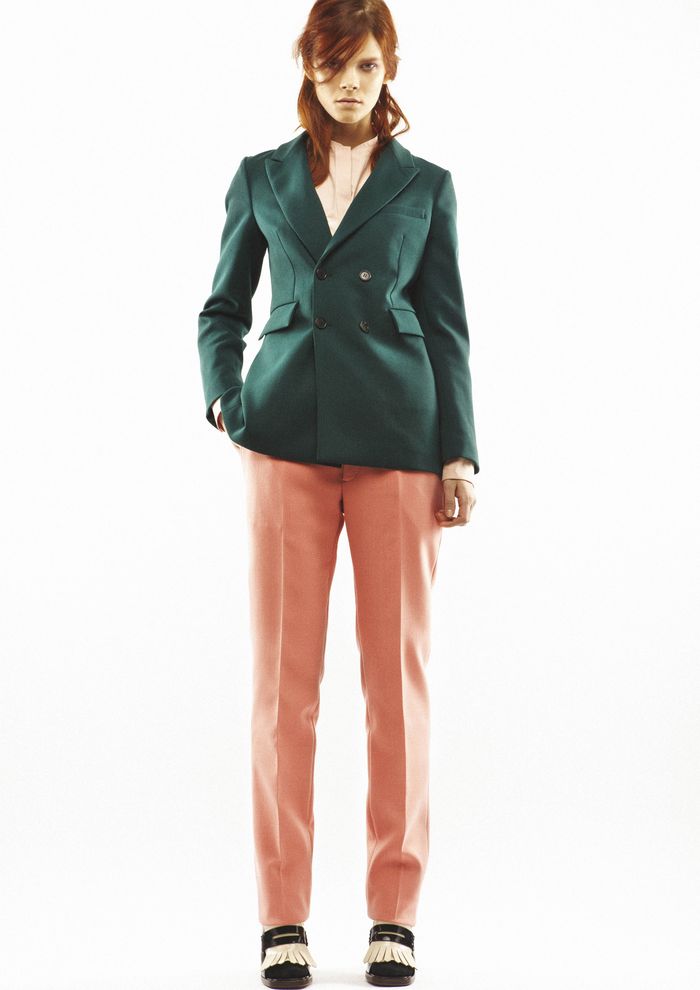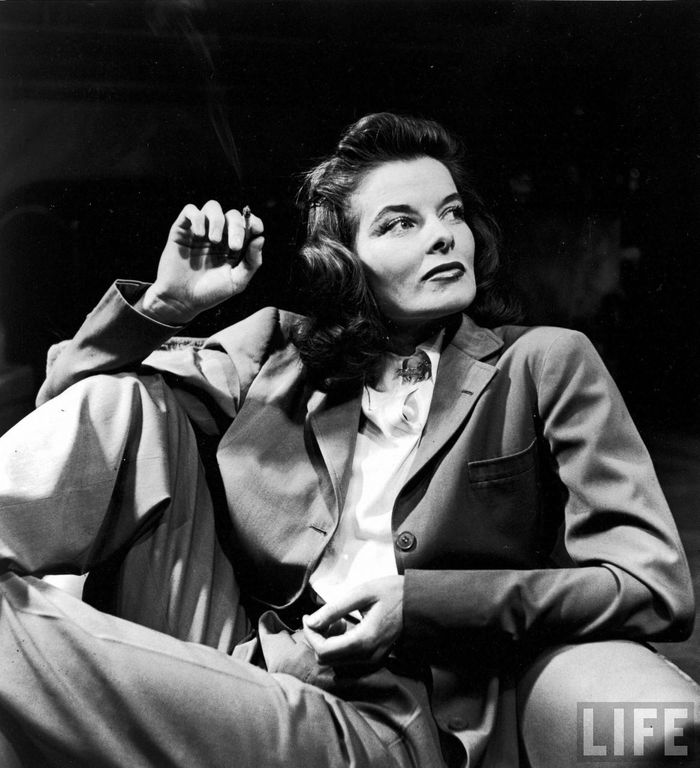 But predating them both, and wearing menswear with even greater insouciance was the iconic aviatrix Amelia Earhart.
When he was young my Dad was in the Air Force, so I grew up enthralled by aeroplanes and the iconic Earhart.
 Born July 24, 1897, Amelia Earhart grew up very different from other girls of the day. Her mother didn't believe in raising "nice little girls," and dressed her daughters in bloomers rather then skirts. Amelia was raised in an educated environment and taught that nothing was out of her grasp, even if she was a woman.
Amelia took her first flying lesson on January 3, 1921, at Kinner Field near Long Beach, CA. Nearly two years later on October 22, 1922, Earhart broke the female world altitude record by flying her plane to 14,000 feet. On May 15, 1923, Earhart became only the 16th woman to ever receive a pilot's license.
Inspired by Charles Lindbergh's successful solo transatlantic flight in 1927, Earhart was asked to be the first woman to achieve the a similar feat. On May 20, 1932, at the age of 34, Amelia Earhart took off from Harbour Grace, Newfoundland. With nothing more then a dated local newspaper (to prove her flight's origin), she flew solo for 14 hours and 56 minutes before she landed in a pasture in Culmore, north of Derry, in Ireland.
Between 1930 and 1935, Earhart had set seven women's speed and distance records and was already a household name across the country.
 In 1935 she decided that her next achievement would be her grandest. She decided that she would circumnavigate the globe as close to the equator as she could manage. After a failed first attempt due to mechanical difficulties, Earhart departed for her second attempt on June 1, 1937 from Miami, FL. 
After numerous stops heading east she, and her crew, had finally made it to Lea, New Guinea on June 29. She had completed 22,000 miles of her journey; only 7,000 miles remained, all ocean between her and America. After a short rest to prepare for the final leg of the journey, Earhart and her crew left Lea on July 1, 1937, headed for Howland Island, some 2,556 miles away. 
Her last recorded location was about 800 miles into her flight. 
Amelia Earhart had simply disappeared...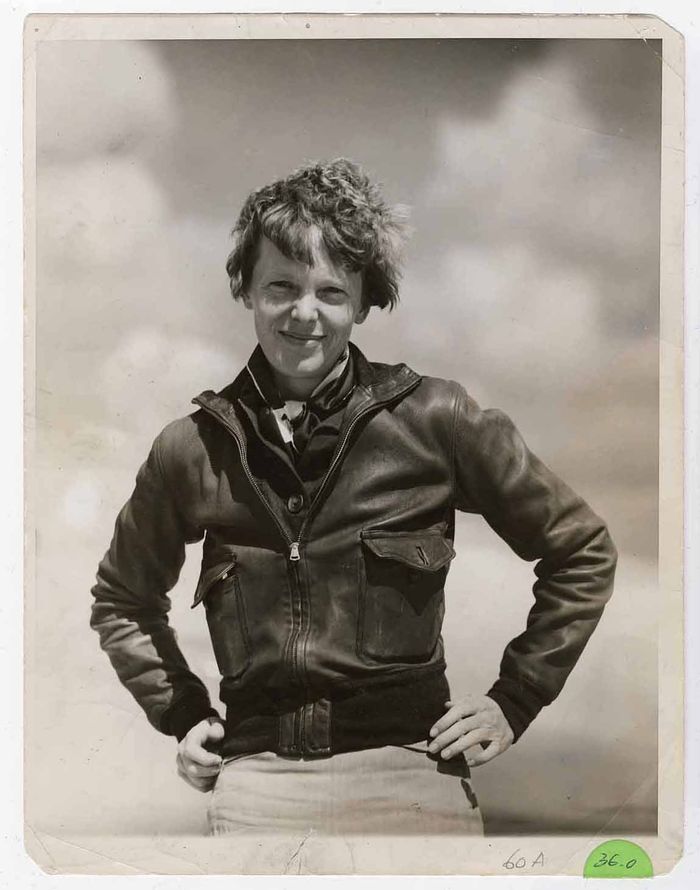 There is much speculation to this day about what could have happened to her flight — whether they had gotten lost over the sea and ran out of fuel, or if there was some other accident.
There is no evidence to suspect that there were ever any problems with the flight path or the aircraft. 
Numerous expeditions have been launched since that fated day in an effort to find Earhart and her plane. None have been successful.
 Several theories have formed regarding Earhart's last days, many of which have been connected to various artifacts that have been found on Pacific islands—including clothing, tools and, more recently, freckle cream.
Earhart was legally declared dead in 1939...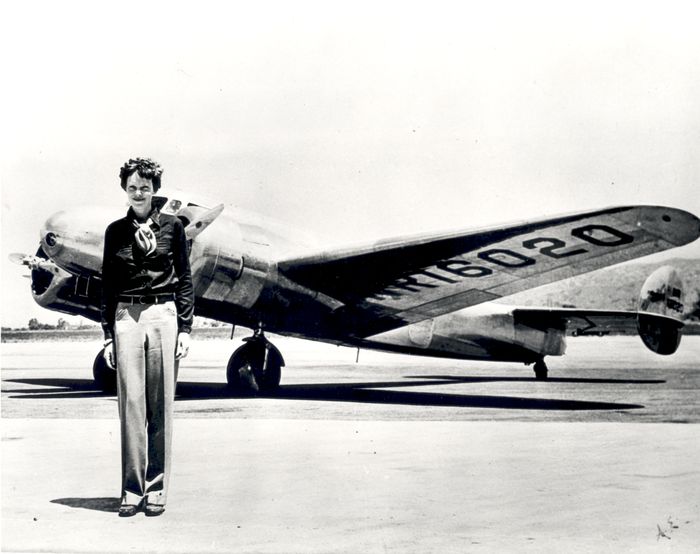 "Please know that I am aware of the hazards. I want to do it because I want to do it. Women must try to do things as men have tried. When they fail, their failure must be a challenge to others."  –Amelia Earhart
If Amelia were alive today, she would wear Marni.
I know she would...
Queen Marie
x