Two little blackbirds, sitting on a wall
Fly away Peter, fly away Paul...
Every morning when I come into work, after I have switched my computer on, I feed the birds in the garden.
I feed them cornflakes which I spread on the windowsill.
I do that to make it easier for all the smaller birds, who  were constantly being pushed aside by all the magpies, crows and pigeons (although the lovely wood pigeons are so gentle and mellow they seem afraid of everyone else...)
If for some reason, I get distracted or held up, they are not long in reminding me. They line up and look in the window in a most indignant manner. My favourite blackbird even chaps at the window with his beak.
I have come to adore the blackbirds most of all.
Their little yellow beaks are always covered with little bits of dirt but  their eyes  are even wonderful. Black but ringed with the brightest yellow, you can see the mischief and intelligence in them.
Sometimes in the late afternoon, when it starts to grow dark and all the other little birds have flown away home, he come back and sits looking in the window in the most companionable way.
Small wonder then that I am so fond of birds and all things bird related (although I'm sure at this point Empresse Gillian is shaking her head and shouting at the screen "you're more than fond, it's an obsession and you don't even see it!)
So you can imagine how much I love the work of Miranda Chambers
Graduating from Sheffield Hallam in 2011 this young jeweler  has taken inspiration from traditional rhymes and stories. Working in precious metals and stones, her work is sweet, innocent and charming.
Like little wearable nursery rhymes, they make me smile.
 At the minute, the only place I can find her work for sale is here at F7.
Her etsy store is closed at the moment ( if anyone know of any more stockists then please let me know)
Peter and Paul rings       Silver  £140            Gold £170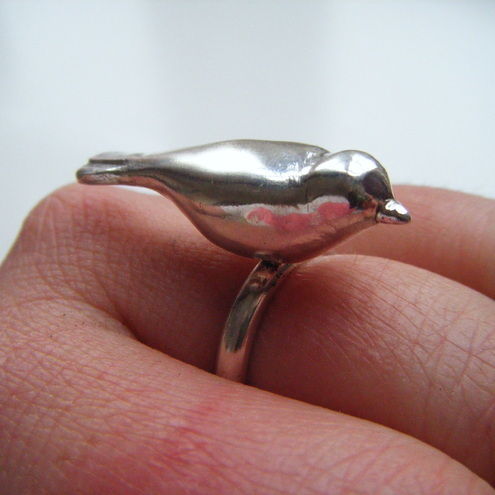 If she ever makes a pair of blackbirds, I shall of course have to buy them at once...
Queen Marie
x