Happy Valentines Day everyone xxx
Hope your day has been filled with love, overpriced flowers, chocolate and that this post find you considerably happier than my friend A, who declared this morning with a mixture of venom and disappointment in his voice - "that fat little fucker forgot my address again"
He was of course referring to Cupid!
 We all know that nothing can heal heartbreak and hurt like a cute puppy dog or a little kitty cat, so that is exactly what I'm giving you this afternoon
 No matter how cool, cutting edge or worldly wise your may appear, deep down inside, you know you would love one of these. Guaranteed you could maybe only wear it in your own house where no one can see you, but you want one, we all do!
 DACHSHUND , CHIHUAHUA, KITTEN, PUG and BUNNY NECKLACES from £17.50
Or how about this little tubby Ballerina trinket box. I love her 1920's hairdo , little red cheeks and the fact that she looks like she has been eating some cream buns before she went to class. Adorable.
BALLERINA TRINKET BOX £17.50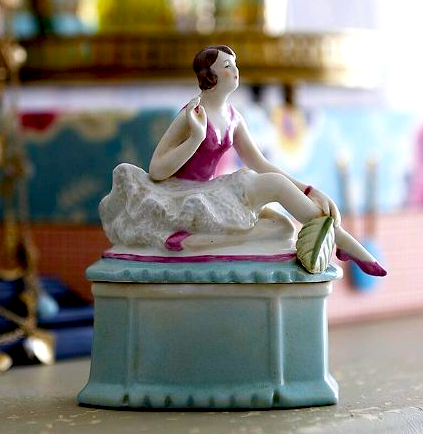 All of this cuteness comes from the adorable angel at my table whose charming online store I featured on and off pretty much since The Kingdom launched away back in the Ice Age.
Now if you will excuse me, I'm off to buy myself some flowers and chocs.
Harumph.
Queen Marie