They say that the way to a man's heart is through his stomach.
To capture the heart of a woman however, a much safer route would be via a handbag.
I can't imagine anyone failing to fall in love with the giver of this - The Venus Bag.
So simple, so clever, the tan belt wraps around the bag three times and attaches with a brass stud. To open and close the bag, you simply pull the two ends together. Easy peasy lemon squeezy.
Venus Bag £160.00
This wonderful bag is made by Amma Gyan
Amma has been designing leather accessories since 2003. Born in Ghana, then moving to London, her style is a meld of both cultures. 
I'm equally certain that if you were to give the lady in your life ,The Little Lady below, she would be mightily smitten. 
Little Lady - Tan & Pale Blue £164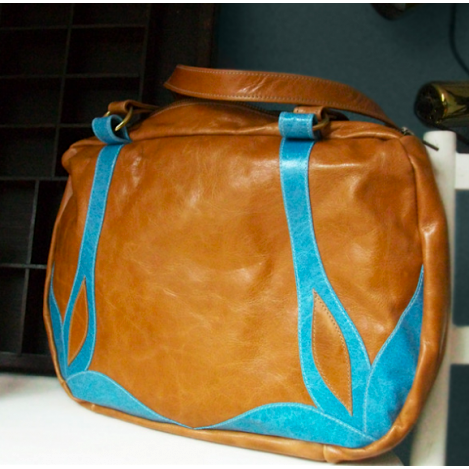 In 2008, with the intention of broadening the collection  Amma embarked on a new journey to discover the possibilities of working with leather, this is how Amma was introduced to moulding leather.
After training with two of the best leather workers in the world,  Neil MacGregor and Valerie Micheals  Amma developed her own method of  applying this traditional craft skill  by combining it with  modern beading techniques and experimenting with surface finishes  to create unique pieces.
My favourites are these ivy necklaces below.
Each piece is individually cut, sculpted and dyed by hand. Once dyed each leaf is then brushed with gold paint to add the final touch and dramatic finish. 
 Ivy Necklaces from £40.00
Even better, if you head over to the wonderful Contemporary Lab , you can buy any of Anna's work with a 20% discount for Valentine's Day...
x