Last week, I was contacted by Glasgow based jewellery designer, Georgia Wiseman, who was urged by my former work collegue, who's agency designed her new site, to get in touch with me to tell me about the relaunch of her line. I'm so glad she "finally found the courage" because her work is spectacular.
However, in another one of Queen Marie and I's 'shared brain' moments, she came across the designer too, via a different route, and featured her work last week and wrote a lovely post about her. This was good news for me because it meant I could really focus on the interview.
Many emails later and I had conducted my interview with this young talent, who tells me about being a mother, precious jewels and the last time she danced....
Where were you born and bred?
The midlands, I was born in Leicester but my dad was Scottish so was always a regular visitor up here in my childhood.
You studied at Glasgow School of Art and then took a few years off to have kids and live a real life, before entering back into the arena. Do you feel it was important that you took that time to dedicate to your family, before launching?
Yes definitely, I started to wind down my own work while I was pregnant with Lola as I was kind of relishing the chance to switch my brain off for a while and just clear my bench so to speak. I was becoming jaded with things and I took probably nearly a year off which was absolutely amazing to be able to spend that time to just quietly get on with family life. It was so refreshing having that time to stop and think, in both the work sense and with life. With Bruno's arrival it was a different story altogether, I literally came home from hospital had a couple of days to gather myself and got right back into it we were just about to launch the new website & brand new collections and had I to keep the momentum going - it's different the second time round you're brain knows what it's doing and you've mastered the art of multi-tasking!
Did having a family first change your perspective on how you wanted to do things with your business? Sometimes people say it teaches them to really focus themselves better.
Hugely, it's had a massive influence on both mine and my partner Tommy's lives.  We're both self-employed and we don't have any family near by to help out so it's important we both work together to move forward.  The way in which we work, what we want from life and the life we want to provide for our kids has completely refocused the pair of us. Having that time initially to stop, sit back and let my brain get going again when it was ready and not before has been the driving force behind this whole re-launch of the brand.  I've completely changed the way I make my jewellery, from the techniques I use  to the metals I work with and how I plan to sell it too.  I'm more streamlined and far more organised(ish), you've got to be with a 2 year year old and a 5 month old. I can also function on a fraction of the sleep I used too!
Scotland seems to produce exceptionally talented jewellery designers, and I feel, in terms of the fashion industry, Scots definitely excel in textiles and jewellery. How have you found the support in Scotland being a new name on the scene?
I've always thought that Glasgow is an amazingly creative city, it's fantastic and I love it to pieces.  I moved to London for a while after graduating and started on a course at the RCA but decided to leave and returned to Glasgow, that's how how much I love it.  Returning was a tough decision but has been a great one, I had so much support from schems like NESTA, the Princes Trust and the old Scottish Arts Council. Being nominated at the Scottish Fashion Award a few years ago was great too and there seems to be some interesting commercially orientated new platforms out there at the moment, like Fashion Foundry and Scotland Re:Designed, it's getting really exciting out there again but it's up to you to primarily to get yourself out there first and foremost.
Currently, your work is pleasingly affordable, as you use crystals and plating on non-precious metal. Do ever think you'll move in precious stones? Will we ever see a monster diamond ring on Georgia Wiseman?!
Yes of course!!  I always previously worked in precious metals, Gold being my favourite but I was starting to find it restricting due to the costs involved in making the pieces.  I love making larger pieces of jewellery, but it's just not viable to be buying trunk loads of gold and precious stones especially with the rising prices & the economy the way it is.  I'm not good at dulling down designs either to make them less expensive so that's why my current collections are utilising gold-plating, with Swarvoski crystals. I can still create statement, design-led jewellery without compromising on style or quality of craftsmanship.  I'm sure I will create a fine jewellery line again in the future, but I'd also like to work with other luxury materials too such as leather first.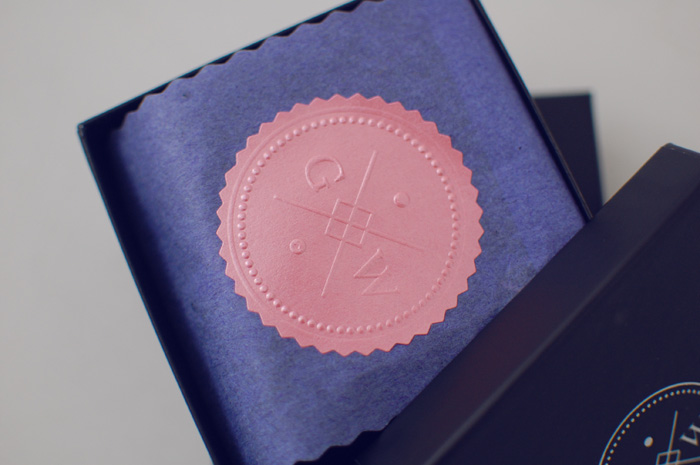 A lot of jewellery designers often feel they need to design rings for weddings and engagements, to bring in the regular money. You seem to have steered clear of that. But is that something you think you'll consider exploring in the future?
I've done a few stunning engagement rings for friends over the years and yes I do work to commission, but I take my hat off to folk who do it all the time it's so difficult making sure you're all on the same page, everyone visualises things in different ways.  It's quite an emotional process to go through I find, but now with the introduction of CAD renderings it's making the process so much simpler.  I suppose I'm just pretty stubborn with my own ideas I guess and love to doing my own thing too much.
Now some random questions because I'm just nosey!
What are you currently listening to?
Today I've listened to Bobby Womack and Four Tet, a mixed bunch.
When was the last time you danced?
This morning, with Lola round the house.  On an actual dance floor, too embarrassing to say BUT I'm planning a date with my dancing shoes soon.
Any fashion labels/designers you particularly love?
I am currently in love with the amazing craftsmanship of Balmain, the colours of Chris Kane and the futuristic metallics of Burberry Prorsum.
Favourite Glasgow shopping spot?
For jewellery it has to be Orro in the merchant city, but I also love a good trawl round Clydeside Antiques and you can't beat Polmadie car boot.
A huge thank ypou to Georgia for taking the time to answer my questions and we look foreward to seeing more of this talented lady.
Queen Michelle