Queen Marie and I have thing we call the 'Space In Your Head'. Our brains, like everyone else's I guess, are usually filled with humdrum life stuff. Work, groceries, bills, blah blah blah. But the 'Space In Your Head' is the special little corner of your head which you reserve for the nice stuff you daydream about.
Sometimes the space can be filled with a few things, but I find usually one thing at a time takes up the space. For some people, the space is taken up with a special person the have a crush on or perhaps a place they want to visit or even a pair of shoes. The space is pleasant and filled with frivolity and daydreams.
My friend Pamela recently said she was prowling around online shops and was just feeling a bit 'meh' about it all; there was nothing she really wants or was obsessing over. I told her about the 'Space In Your Head' concept, and she agreed that was exactly what she meant. There was just nothing in the space!
Currently, my space is filled with thoughts of mid-calf tartan skirts. I have absolutely no idea why. I think it really came about because I've been thinking lots about tartan because of my work with Jaggy Nettle for JNXKOS, so tartan has been on my mind a great deal. It then manifested itself into a minor tartan skirt obsession. Other items which float in and out of The Space, are currently located in my Pinterest Wishlist.
Ok yes I'm Scottish, but my tartan skirt obsession was more about trying to update my look from when I was an 18 year old punk. I wore tartan bondage trousers, so with the skirt I'm trying to reinterpretate the kind of outfits I wore with those trousers, but make it a little more suitable for me over 20 years later.
Charity shops brought me no luck so I took to eBay and amanaged to get a couple for much cheapness. One is yet to arrive, but here is the first one. A cheery red and blue pleated skirt, which looks pretty cool with my beloved 80's Iron Maiden Powerslave t-shirt (such a vibrant blue after all these years and endless wear). I top it off with a hat, some white socks and some Underground creepers, and I've hopefully made my tartan skirt a little less Bay City Rollers and a little more punk.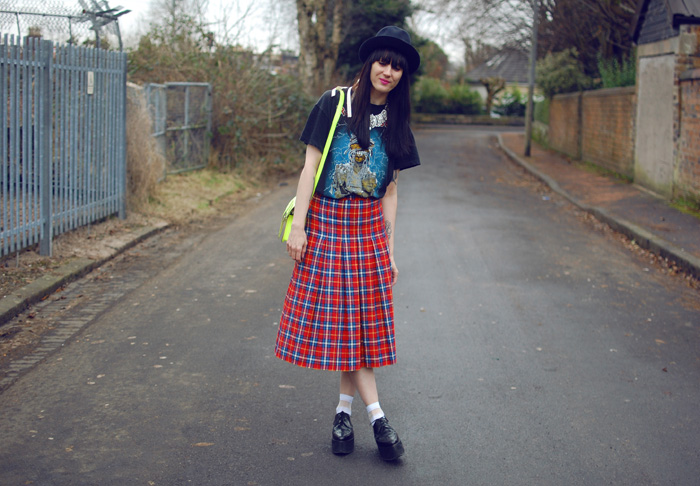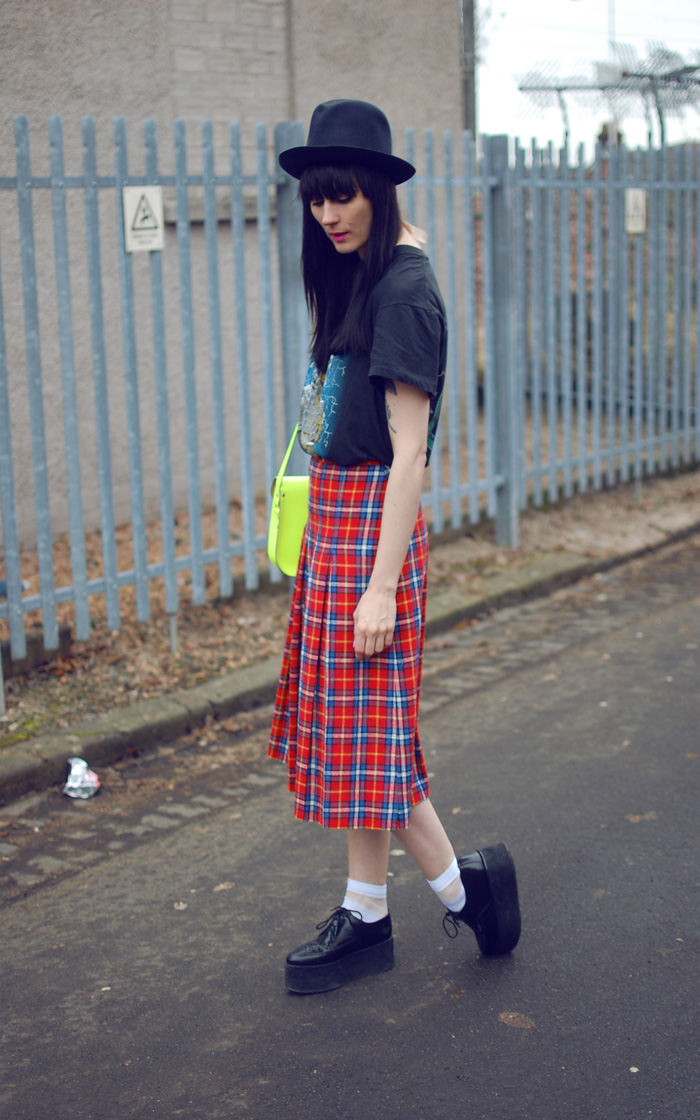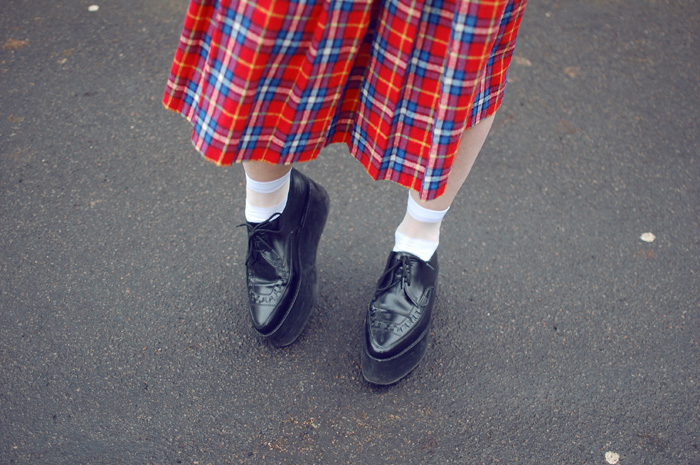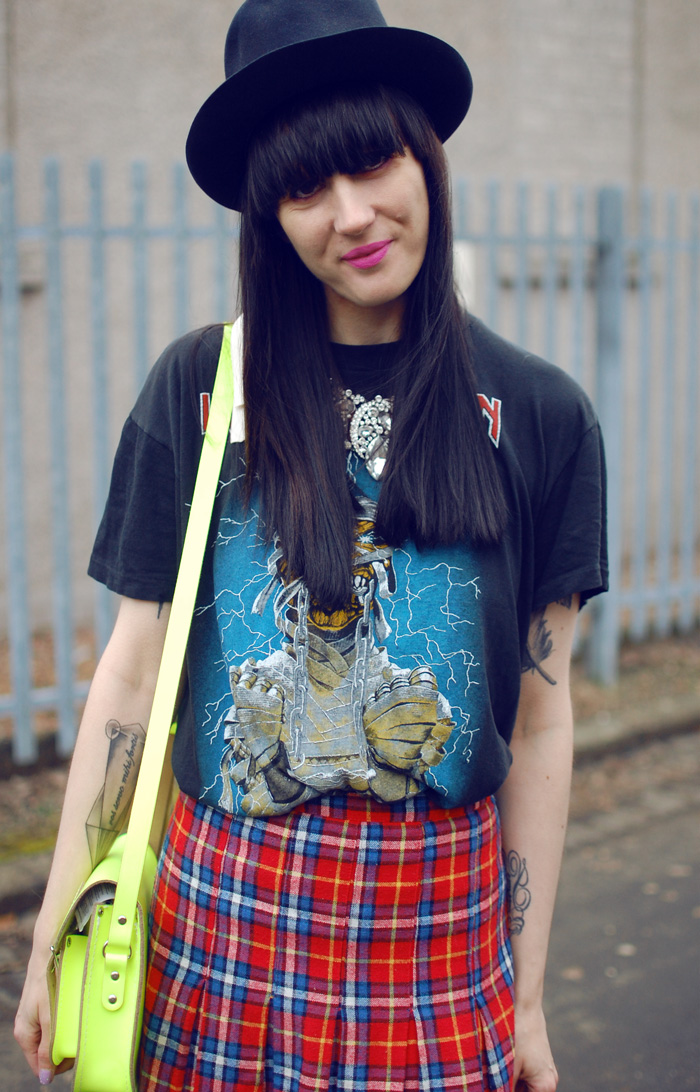 And no I didn't just walk about in a t-shirt, I also wore my snuggly warm Zara fur coat.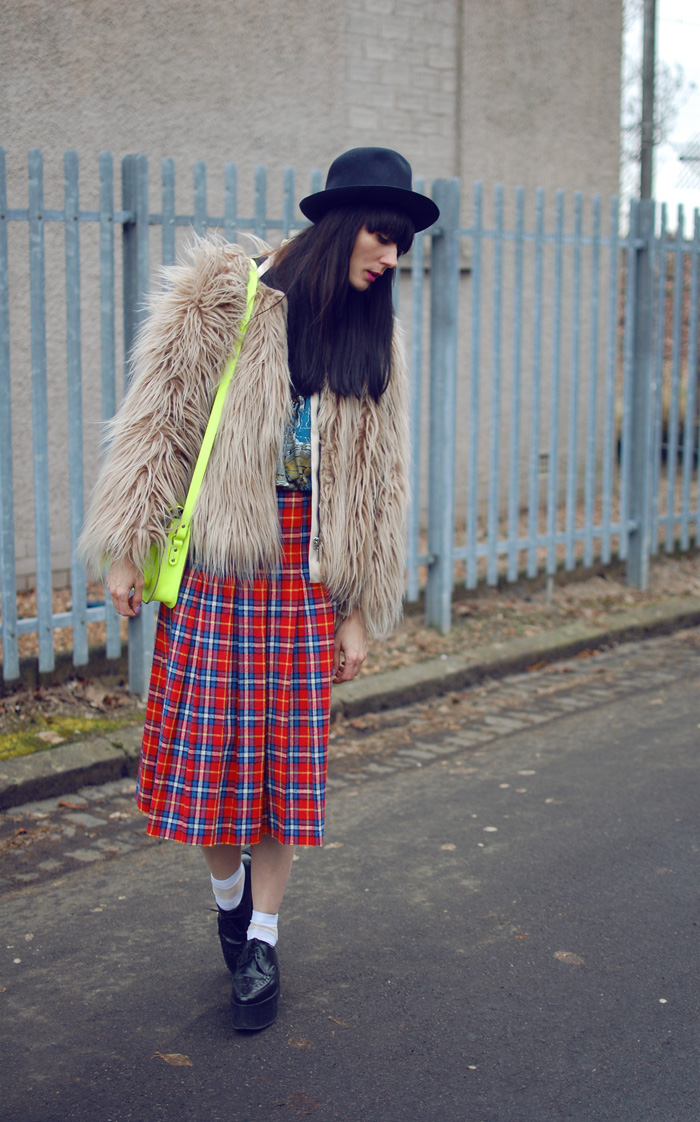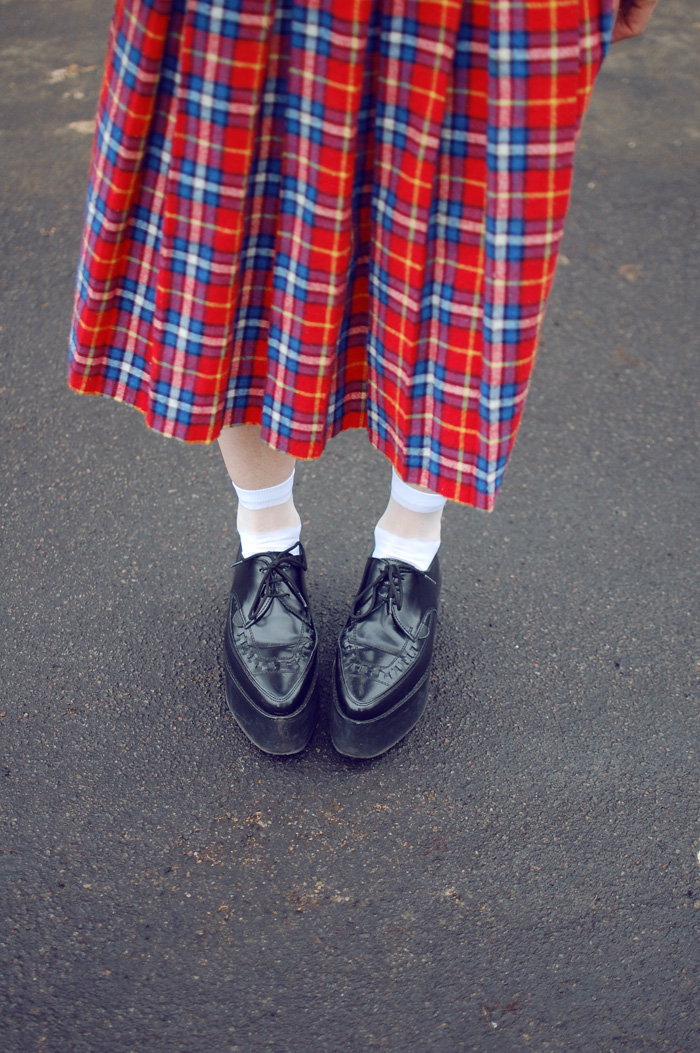 Out of curiousity, what is currently occupying The Space In Your Head?
Queen Michelle