I've said it before and I'll say it again, I love the way the internet can make the world feel like a much smaller and friendlier place.
I especially love it , when it puts you in touch with someone in your own backyard.
That's exactly what happened last week when our online paths crosed with the lovely and talented  fine jeweler Georgia Wiseman.
A graduate of Glasgow School of Art, Georgia has spent time in London and Glasgow working in the craft and fashion industries but is now back working and living just outside Glasgow.
 Inspired by a love of geometric pattern, 3-dimensional forms and modern culture, her jewellery designs place intricate detailing at the heart of the collections, and when combined with her passion for working with high quality materials and processes the result is stunning pieces that you could wear every day!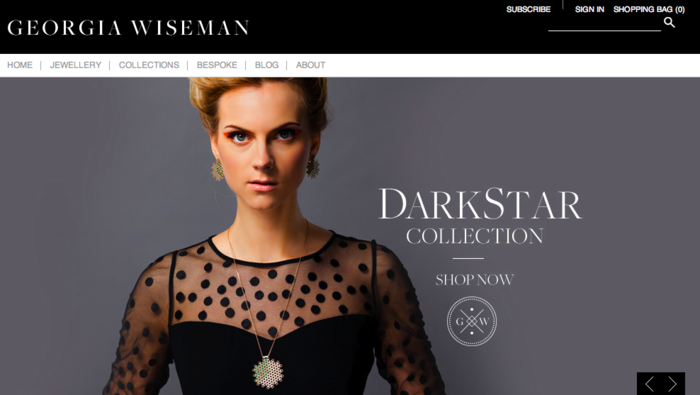 2013 sees Georgia take a fresh new direction for the brand, developing her business with a move into fashion jewellery and extending her online presence with a striking new web store.  
It was no surprise to find out that her logo and site were the work of those clever boys over at we are everyone.

Her collections include Dark Star, Eclipse and Geo.  I am completely captivatd by the swarovski crystal pieces below. That green is so luminous it almost looks lit from within...
STELLA Pyramid segment chunky necklace £165.00   VEGA Feline chunky necklace  £230.00
SIRUS Fern green pyramid pendant £75.                   CAPELLA Deco glamour earrings £175.00
Queen Marie
x