I don't know about you, but sometimes I almost feel quite anxious about the amount of content out there in the world that I haven't investigated fully.Magazines and books I haven't read, sites I haven't looked at.
So much information that I almost feel a white out coming on.
As well as writing lists, I also mentally try to take a note of things that I want to maybe share at some point here in The Kingdom.
The Hunger is one of those things!
 Aimed at the "culturally and visually hungry" it's is a biannual magazine from photographer and publisher, Rankin. Launched in November 2011 - 20 years after Dazed & Confused was founded, and 10 years after the birth of AnOther – The Hunger provides a new platform for uncompromised self-expression, innovation and discovery.
Working with both experienced and emerging talents in the arts, fashion and editorial, The Hunger seeks out cultural progression and distinction. Each issue of the magazine features both a male and female cover.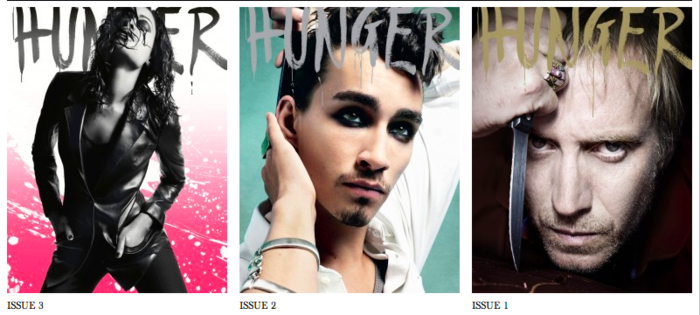 The hungertv.com website launched simultaneously with the magazine, with a unique focus on video content – fashion films, behind the scenes footage and exclusive performances, collaborations, and interviews.

One of my favourite features is the Young Blood spotlight on the work of new photographers.
Looking at this latest one, a shoot called 'Abloom' by Robert John Kley, made me long for Spring and the sight of flowers...
This is how he explained the concept behind the shoot... 
"There was a single flower someone had given to me in a small glass on a shelf in the studio. One afternoon I happened to look over at it and noticedhow much its color stood out from the light wall behind it.
We concepted a simple story around that image where the model was like the single flower against a plain backdrop. Clean, fresh, with out distractions so you could really see the colors pop and feel all of the brightness and range of the shades of spring"
I keep coming back to the details in these shots. That amazing druzy necklace, that glorious pink lip colour and best of all the feathering of gold on her hair at the temple, making it look like a burnished birds wing....
 Photography- robert john kley, Styling- jimi urquiaga, Hair- victoria casciola
Makeup- homa safar ,Model corrie lejuwaan.
As well as creating these wonderful shots, he seems to have a a lovely outlook on life saying -
" I look forward to the images and films we will create in the future. To be present in the moments given, and to always keep in mind that nothing is out of reach and that the people you care about, no matter what the distance or time, are never to far way"
Amen to that Robert...
Queen Marie
x