I always say, that I try to look forwards not backwards. That's why the Baby Jesus put our eyes on the front of our heads.
But sometimes it is nice to look back...
When I was about 20, I continually wore two titanium chokers that C  bought me in a little shop in Rose Street, during one of our many Edinburgh trips. 
Titanium is amazing. When heated and anodized, the metal naturally turns different colours from bright golds to rich purples and turquoises. It is like wearing a rainbow!
Even better it is very light and hypoallergenic, so it never gave me any problems. After continous wear sometimes the colour would dull, but all you had to do was wash it in warm soapy water and it would be bright and shining once more...
Pendant with sikver inlay £55.00      Bangle £150
Last year I took a real notion to wear titanium again, and hard though it is to believe, I cannot find those chokers everywhere! So I have been looking on and off since to find just the right thing to bring titanium back into my life.
Yes there is plenty of it out there but none of it had the vibrant glorious colours I remembered that made me feel so happy wearing it.
Then last week I came across the wonderful KIngfisher Titanium on Etsy.
Hooray! here was the titanium I remembered. Bright, shining and happy, happy happy.
I have bought this Fishtail Necklace below and can't wait for it to arrive. I love it but I must confess that if there had been more turquoise blue, then I would have loved it even more.
Titanium is very difficult to photograph but I shall take some shots when it gets here to let you see how it looks on...
Each piece of titanium jewellery that Julian makes is totally unique, due to the anodizing process. This just helps to make if feel even more special.
 Rainbow cross £95                Heart Necklace £40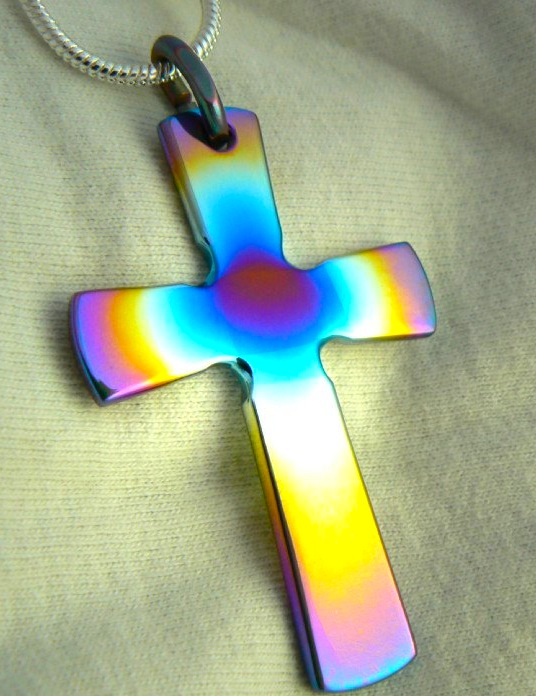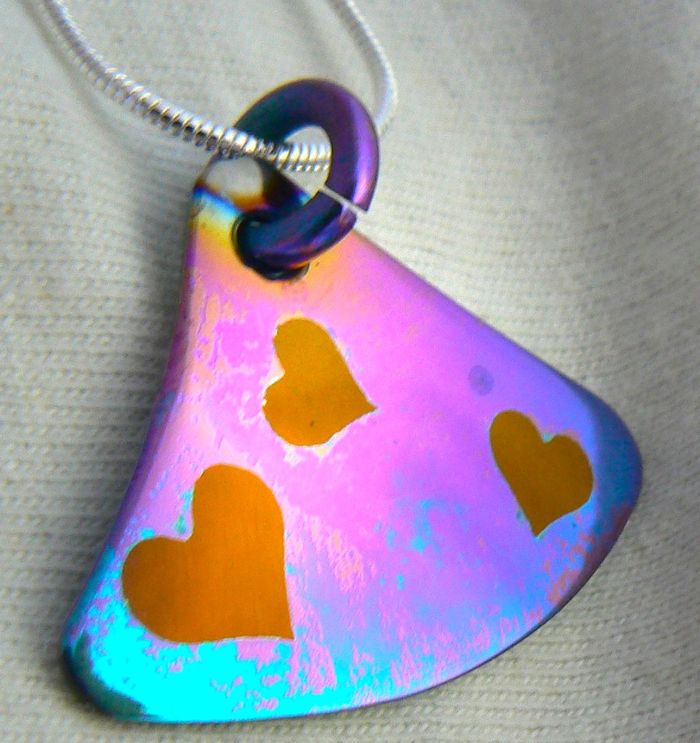 If you get a minute, pop over and have a look .
I'm fighting the urge for that bangle now. Arghhhhhhh.
Queen Marie
x